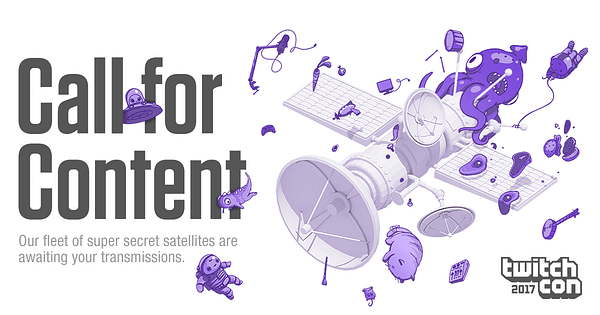 TwitchCon is just around the corner and today, everyone's favorite streaming platform, Twitch announced the start of its official TwitchCon 2017 Call for Content. Members of the Twitch and broader content creator community are invited to submit session ideas for consideration via TwitchCon.com. Call for Content submissions will close on July 3 at 8:59pm PDT/11:59pm EDT. Selected presenters will be notified of the status of their submissions no later than July 17.
Ever since way back during TwitchCon 2016, Twitch has been introducing a number of new tools and features, ranging from improved monetization and moderation options to content categories that go beyond gaming. Attendees are encouraged to submit topics that cover new additions to the platform, as well as to bring fresh perspectives to topics that resonated at previous TwitchCons. Not sure what worked at past twitch cons? That's fine, just suggest what drives you. Twitch is pretty open to content ideas these days, from all avenues of creativity. If you make sculptures of Pokémon out of pasta, I'm pretty sure there's a Twitch audience out there just waiting for it.
"Year over year, the Twitch community has surfaced incredible content for TwitchCon, spanning broadcasting best practices, navigating the games industry, cultivating inclusivity, and dozens of other relevant topics," said Marcus "djWHEAT" Graham, Director of Twitch Studios. "Given all of the changes we've made to our platform since our last TwitchCon and how our community never ceases to surprise us in positive ways, we are eager to see what creative suggestions are submitted this year."
The first round of tickets for TwitchCon 2017 will be available to the public at the end of May, with more details to be announced in the coming months, including the initial programming schedule and Talent Show calls for submissions. So, get cracking on your ideas guys, you've got a few months but that time'll go fast.
TwitchCon 2017 will take place October 20-22 at the Long Beach Convention and Entertainment Center in Long Beach, CA. To receive TwitchCon-specific updates, visit the TwitchCon homepage to sign up for the newsletter or follow the TwitchCon Twitter feed.
Enjoyed this article? Share it!