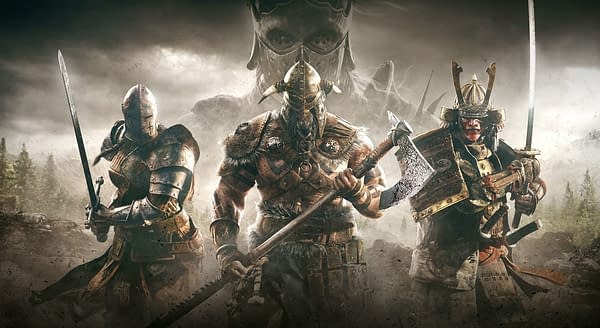 Ubisoft has already announced its season pass and DLC plans for the melee action game For Honor. Unlike most games, all For Honor players will be able to experience the post-launch DLC updates in Faction War seasons. Each season will last for three months and will see the release of two new heroes and two new maps to go with them, as well as various other weapon, armor, and game modes.
Season pass holders will have a full week with the new heroes before they are released the the wider player base and they will unlock automatically. Free players would need to recruit the heroes by spending Steel – the in-game currency. Season pass holders also get access to exclusive "scavenger" packs and get access to the game a week before the main release date.
Allowing all players access to the DLC content, even in a seasonal capacity, is more what you'd expect of an MMO or a hybrid like Destiny. To see games becoming more and more like live games instead of pre-packaged entities is rather cool. Live games have a certain amount of closeness and trust between developers and players, they can have conversations, give feedback, and see changes they begged for come to fruition. We saw the start of this trend with Bioware's tweaks to the ending of Mass Effect 3 but it hasn't been until now that more and more companies are moving away from the old structure of developer and consumer into a more collaborative one.
The rise of crowdfunding may have a bit to do with it, as does the popularity of MMOs, and the ability to reach Devs via social media. All in all, this is a change that I will be very pleased with. I find collaborative efforts always exceed limits set by one-sided ones and with little by way of detrimental effects. The changes Bioware made to Mass Effect 3 did not change much by way of the game's story, but reflected that players disliked the loss of their autonomy. Final Fantasy XV saw similar trouble and the outcome will likely be similar. MMOs see this sort of change all the time and they have the most devoted fan base. Certainly, dismantling a bit of the wall between developers and players can't hurt us.
Enjoyed this article? Share it!