Upper Deck Would Reprint Legendary Fantastic Four Expansion Set Tomorrow If Marvel Would Let Them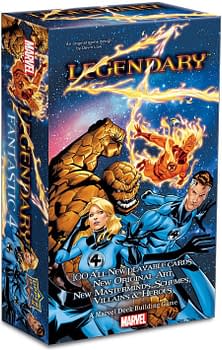 A retailer at the Southern Hobby retail summit gets in touch, after the Upper Deck presentation. Upper Deck are the publisher and manufacturer of the Marvel Legendary card game.
One of the retailers there asked if they were going to reprint the Fantastic Four expansion set, the only one of the eight or so sets not in print. And it has been out of print for some time.
The Upper Deck representative stated that there were no current plans to reprint the Fantastic Four expansion because of restrictions placed on them Marvel. But that if Marvel gave them the go ahead, they would do it the next day…
The standard price for such decks is $20-$25. Currently they are selling on Amazon for $185.