Friday the 13th: The Game Slashes Its Way to Nintendo Switch This Spring
Jason Voorhees is back to terrorize a new generation of fans on the Nintendo Switch in Friday The 13th: The Game, 30 years after the 1989 NES original from Atlus.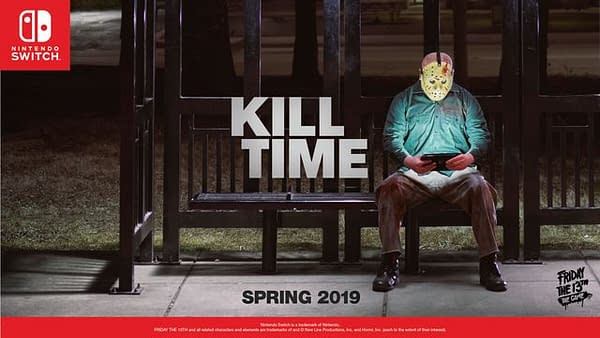 The 2017 game developed by Illfonic & Black Tower Studios and published by Gun Media is a game started on Kickstarter in 2015 and became the 95th most crowdfunded project of all time generating $1.2 million. The initial release became available on digital, May 26 before a physical release arrived in stores five months later. The original platforms supported were Windows, PlayStation 4 and Xbox One. Switch players receive Friday the 13th: The Game Ultimate Slasher Switch Edition, according toVariety.
The games are based on the film franchise that began in 1980 with Friday the 13th. While Pamela Voorhees (Betsy Palmer was the original slasher villain of the film, it would be Jason, who would be the face of that franchise with his trademark hockey mask and machete.
The game puts you as either one of the 12 possible camp counselors or as Jason, himself. The objective for the counselors and special unlockable characters is the escape Camp Crystal Lake or if you're brave enough, kill Jason. While all the counselors can move faster, Jason has stealth abilities and naturally, superhuman strength which he's capable of using open-world objects to far greater effect than the counselors. A counselor with an ax, can stun and slow down Jason, but in Jason's hands, you'd be lucky just to lose a limb. Jason's creative kills are worth the experience alone.
Switch players will have access to all released content and paid DLC with the exception of the Kickstarter-specific items for donors like the exclusive "(Tom) Savini Jason" character or backer clothing pack. "We're happy to be bringing 'Friday the 13th: The Game' to the Nintendo Switch with the help of our partners at Black Tower and Nighthawk. The Nintendo Switch offers a unique experience, in both social settings and on the go, that we feel work very well with 'Friday the 13th: The Game.'"
— Daniel Nixon, Gun Media's Director of Communications.
More DLC was planned, but Gun Media is in a legal battle with the Victor Miller, screenwriter for the 1980's film who's trying to reclaim the rights to his original characters and subsequent releases. For now, according to Gun Media Creative Director Wes Keltner, they can only maintain the console-dedicated servers and maintenance patches.
Will you get Friday the 13th: The Game for the Switch?