Hand of Fate And Styx: Master of Shadows Headline Games With Gold In February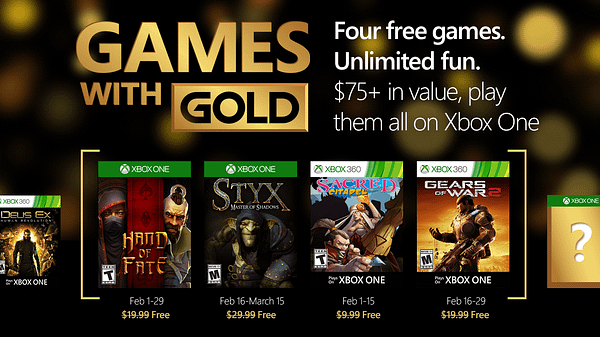 What with it nearly being February, both Sony and Microsoft have announced their free games for February. We've seen Sony's offering, so lets dive into Xbox's.
It was announced by Major Nelson the this month, we will be getting a couple of little sleeper hits on the Xbox One and a classic on Xbox 360. Hand of Fate and Styx: Master of Shadows will take up the Xbox One slots, with the former coming around Feb 1st-29th and Styx coming Feb 16th-March 15th. While they aren't big games, both are actually surprisingly worth your time. Try them out.
On the Xbox 360 from Feb 16th to 29 Gears of War 2 will be on offer, while earlier in the month, from Feb 1st-15th, Sacred Citadel will be yours to take. Gears of War 2 has backwards compatabillity on the Xbox One remember though, so make sure you get on that to have on your new-gen console.
This isn't a banner month for blockbuster titles for Games with Gold, but if you are willing to try something new, there's plenty to enjoy here. Have at it.