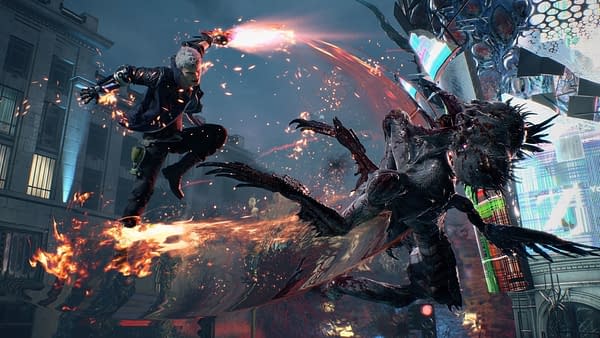 Capcom's Devil May Cry 5 was released this past week with quite a bit of critical acclaim behind it. The game brought the series back to its hypermasculine origins, though with a few shakeups to the traditional formula of "ridiculous things happen, Dante kills demons, there is gore." DMC 5 brings back Nero as one of the major playable characters, and yet again, you start off fighting as Nero before moving on to V and Dante who require a little more finesse than Nero's straight forward combat tactics. Unlike previous games, however, you can swap Dante's different stances on the fly, which saves you from having to pre-set whether you wanted to get a block button, do more damage with guns or sword, or get some extra movement abilities.
The game's story recap video, while featuring some great reworked game graphics overlaid with a weird voice over, also adds the atrocious Devil May Cry anime to the canon storyline, for reasons that are honestly beyond me. Alongside the anime being added to the timeline, Capcom clarified just when DMC 2 and DMC 4 exist in the timeline, which might be counter to what you'd expected.

Like most other
DMC
games (Ninja Theory's
DmC: Devil May Cry
not withstanding),
Devil May Cry 5
doesn't take itself too seriously. In fact, the game borders on self-parody. When you add the collector's edition weapons (the Pasta Breaker, especially) into the equation, you definitely get a game that's not afraid to be incredibly hammy. The humor, self-awareness, and complete and utter lack of graviats are some of the
Devil May Cry
series best aspects.
DMC 5 isn't afraid to be ridiculous, and that's its core strength. However, bringing the series back to its performative hypermasculine roots also has some archaic problems. Namely, its treatment of half the world's population. While the anime adds Patty Lowell to Devil May Cry's cast of women, none of the games (nor the anime) are particularly great when it comes to women. Trish and Lady tick all of the fanservice boxes while also slotting into the Shrew character type, while Kyrie exists only to be kidnapped and used as an image of female purity. Patty manages to straddle the line between shrewishness and purity, which is surprising only in that she's the youngest recurring girl in the series. Nico, who is first introduced in DMC 5 as one of Nero's supporting characters, fills the same fanservice role that Trish, Lady, and Lucia have previously held while avoiding the shrew archetype. Instead, she's performatively vulgar for the sake of shock value. Like Final Fantasy XV's Cindy but with the volume turned up to 11.
Granted, plenty of this can be written off with that simple reference. Everything in Devil May Cry is over-the-top, so naturally its treatment of women should be as well. Except that the only woman treated with respect by any aspect of the broader DMC universe is the anime's Elena Houston. Elena appears only in the episode "Mermaid Rock" and has the most sympathetic character arc of anyone who isn't a white haired demon hunter.
Sure, Dante and Nero are the ultimate male power fantasy, but even wrapping the whole series up with that oversimplification does it a disservice. I've always viewed the
DMC
games as a guilty pleasure because its treatment of female characters would often offend me on a visceral level. I typically give the games a pass for being just "stupid fun" and not taking them any more seriously than they take themselves. However, with
DMC 5
, its starting to be a bit of a struggle because on so many other levels the game seems to understand that it's a relic. Dante, Nero, and even V's version of "cool" is outdated. Dante's always been an 80s metal throwback, while Nero hits a more 90s tone, and V clearly comes in with the goth/emo vibe of the early 2000s. Which really helps the game hit the
proper nostalgia buttons for most gamers
.
That said, I will never not find V's "recite poetry" button not hysterical.
Enjoyed this article? Share it!