Annapurna Interactive and Funomena announced today that Wattam now has an official release date for both the PS4 and the Epic Games Store. The news came out on the PlayStation Blog that it will be released on December 17th, 2019. Along with the news came an interview with the creator Keita Takahashi, as well as a new trailer to mark the occasion. We have a snippet of the interview for you here as well as that trailer for you to enjoy!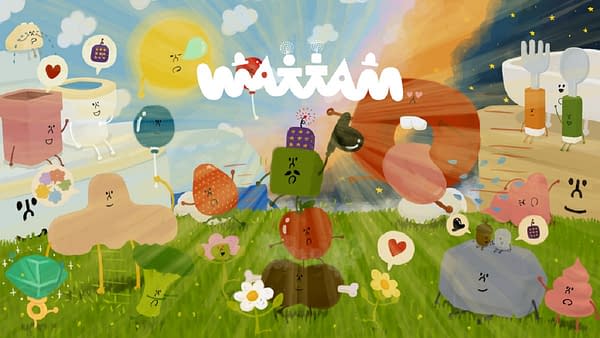 PSB: The music in your games is always so delightful! Can you tell us what kind of work went into building out Wattam's soundtrack?

KT: We have tried making an interactive music system in Wattam. Each location ("locations" are also "people" though) has its own music, and every person has its own instrument sounds. So you can listen to different music and instruments by selecting different people and being at different locations. And if you connect to other people, all instrument sounds are mixed well with the music, which you might need to pay attention to in order to notice that change, but it's fun, and you might want to connect with all people to hear all the different music. My wife composed the theme song. I wanted to sync the theme song to tutorial sequence, so the music had to be separated into some segments to sync with the tutorial progression. I was a bit worried if the theme song will be a good one, but she made a really good theme song despite such a condition.

PSB: What are some of the final touches you are putting on the game before putting it into players' hands?

KT: I had made a huge mistake when I was making Katamari. I was tuning the game literally until the day before we submitted the build to Sony. The QA team mentioned that after we got a gold, the game missed an object so the collection mode wasn't able to be completed. Unfortunately the object I moved to the underground was the sole object, so I think the company had to pay tons of extra money to fix this situation.
Enjoyed this article? Share it!