WBIE and IO Interactive Share The "Hitman 2" Roadmap For July 2019
This morning, WBIE and IO Interactive decided to show off all of the new content coming to Hitman 2 with a roadmap for July 2019. Starting tomorrow and running until the end of the month, there will be a number of new additions including special contracts, a challenge pack, another Legacy Elusive Target, and much more. This includes the next Sniper Assassin map called "The Prison" coming on July 30th for everyone with an Expansion Pass, as you head to Siberia where you can unlock the Druzhina 34 ICA Arctic sniper rifle. You can read more about the additions coming to Hitman 2 below, along with a trailer from the dev team.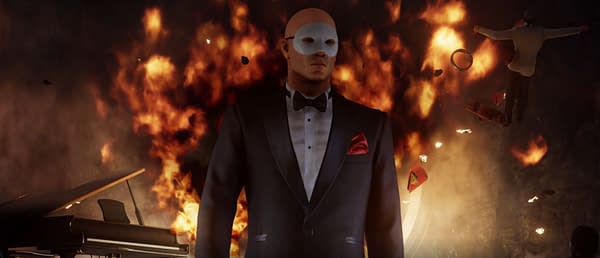 July 4 / Escalation Contract

It's time to stop the music, 47 style, in the Babayeva Dissonance. In this Escalation, you'll have to take care of the musicians and stop the music. There are 3 stages, and each one requires your particular skill sets. All from precision shooting, to a piece of certain knowledge about explosives. And, please be gentle with the cellist.

The "I'm with the Band" Challenge Pack is your perfect opportunity to join the famous Santa Fortuna band. We've added five new band-related challenges to Santa Fortuna, and you'll need to figure out the best way for success – with your one hit wonder, to complete them and earn the unlock. When you're successful, you'll get rewarded with something all band members should have in their life. Their very own Violin.

July 18 / Featured Contracts

Inspired by this month's content theme of Jungle Music, we're looking for Featured Contract Submissions that fit the theme of 'TONE DEATH'. Our themes for Featured Contracts are purposefully open-ended to make sure that the talented Contract creators in the community are free to interpret them in many ways, ensuring some fun and varied contracts. Head on over to the dedicated Featured Contracts Submission Thread to submit your contracts for this month's theme. Submissions close at 9 am CEST on July 15, so get your submissions in before then!

July 19 / Legacy Elusive Target

The notorious Badboy is back! The Badboy Legacy Elusive target is in Sapienza on July 19, for 10 days. So be sure to take care of this particular musician before that. You'll need to own the Legacy Pack to play this Elusive Target, so make sure you download it if you haven't already! Good Luck.

July 25 / Escalation Contract

The Calvino Cacophony Escalation is a hot summer celebration like never before. You'll have to become the menace of Santa Fortuna and you'll definitely going to blow stuff up. But be careful – playing with explosives is a dangerous game! High risk comes with a high reward. When completing this hot escalation, you'll unlock the dashing and cool, Hot Summer Suit.

"Hello and welcome to another episode of IOI Monthly…" Our monthly livestream will return yet again on July 29! And as always this is going to be an exciting one full of reveals and announcements. We'll give you developer insight into all of the content for the month, preview the July Game Update and take a look into the future with some announcements from the August Roadmap! Key members of the team that created 'The Prison' will be on the stream to give you some reveals and details about what to expect from the newest Sniper Assassin Map.