What's in the Box?!: Loot Gaming – June 2018
The minute we got back from E3 last week, waiting for us on our doorstep was a brand new subscription box from Loot Gaming. We were thrown off a bit as the box was smaller than we have been seeing in the past, but we didn't even pop it open yet. So let's see what the month of June has to offer us.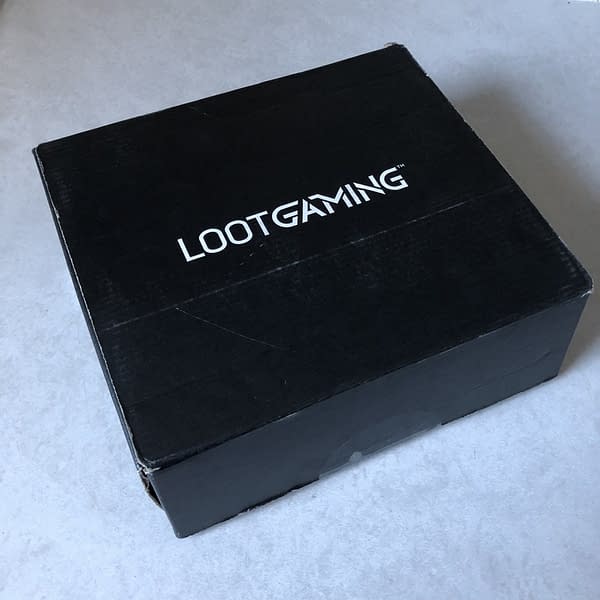 We'll start with the pin as we get a little something different from the norm. A text bubble with the words "Pew! Pew!" pushing beyond the border. It's a simplistic design that works on multiple levels for different kinds of games and doesn't need to be pigeon held to any one form of entertainment. It's a universal pin and it works wonders. Our only issue is the metal back plate, we wish they'd change to rubber, but that's kind of their staple at this point. We enjoyed this one!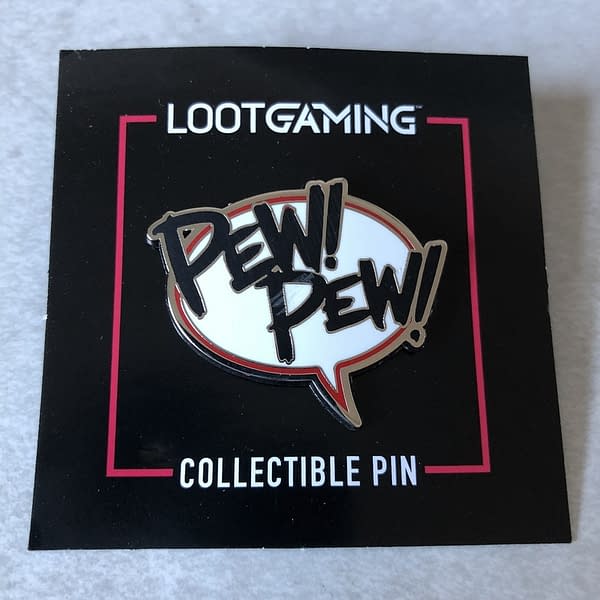 Next up is a keychain from Destiny 2. This is pretty simple in design as the chain has symbology from the game with a red and white color swap. The bonus to it is that it makes noises when you press the middle button, as it lights up and plays a sound effect from the game. It's fun to a degree, but ultimately, it's just a keychain.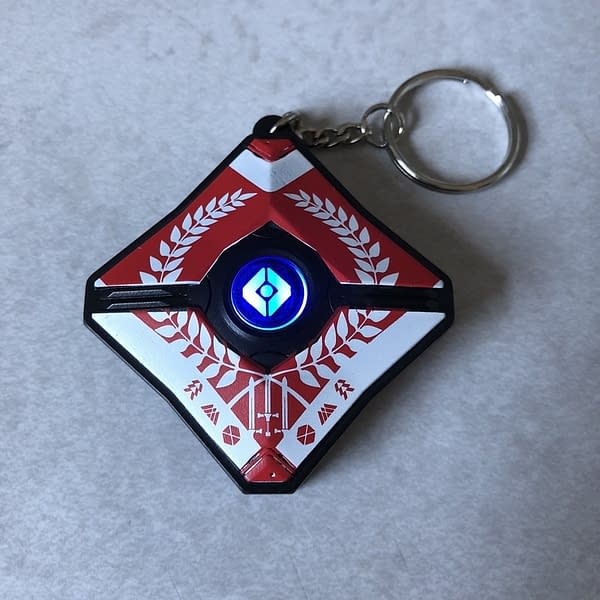 The next item, which we haven't finished yet, is a D-Va Meka wood art sculpture. A bit of a throwback to the days when you used to build dinosaurs from wooden pieces to make a skeleton, this is in the shape of your favorite pink tank from Overwatch. The design isn't complicated and can be put together in about an hour. We just got busy with the rest of the box as we started putting it together. This one is an absolute winner!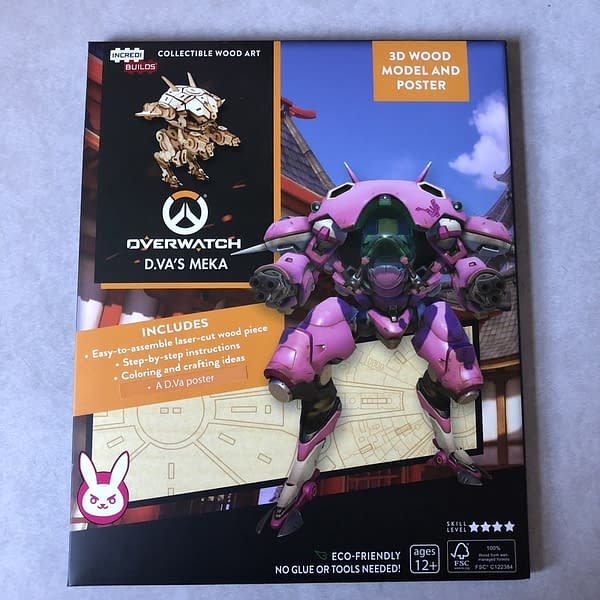 Moving into the weird item of the box, we got a Metroid figure. Basically, this is just a soft plastic representation of the Larva Metroid you may run into in any version of the game. It doesn't really do anything, I mean, you could stick it on the heads of other action figures if you felt like it. But there's no special code or bonus content like amiibos, this is just a plastic figure for your desk or to play with using other action figures. Kind of a miss for us, and we are Metroid fans.
The poster in this Loot Gaming box is that of Overwatch to celebrate the game's anniversary. Its cool, but you may notice it's missing a little something. Actually, quite a few somethings. Any new characters added after the anniversary are not here. In fact, looking closer, we don't see Sombra either. So this is original artwork with the first year's anniversary logo added to it. So… we're confused as to when and why this was made.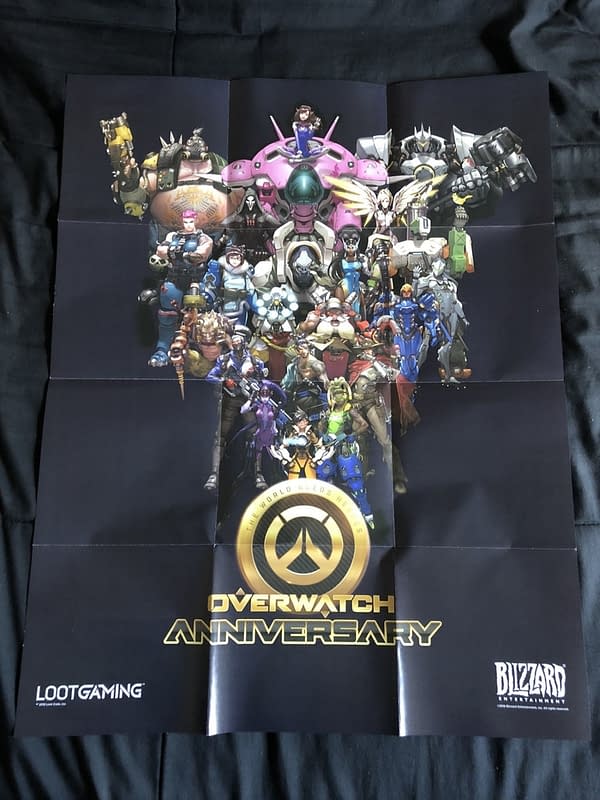 And it doesn't really help that the same design was put on the make-or-break item for the box, the t-shirt. Same design as the poster, sans the anniversary decal. So you're looking at the original core group of heroes. It's a great design and you can always say you got it early on, but it feels out of place with characters like Doomfist, Moira, and Brigitte missing from the fold. We're not going to argue with an Overwatch shirt, but at the same time, we're confused as to why we're getting this design.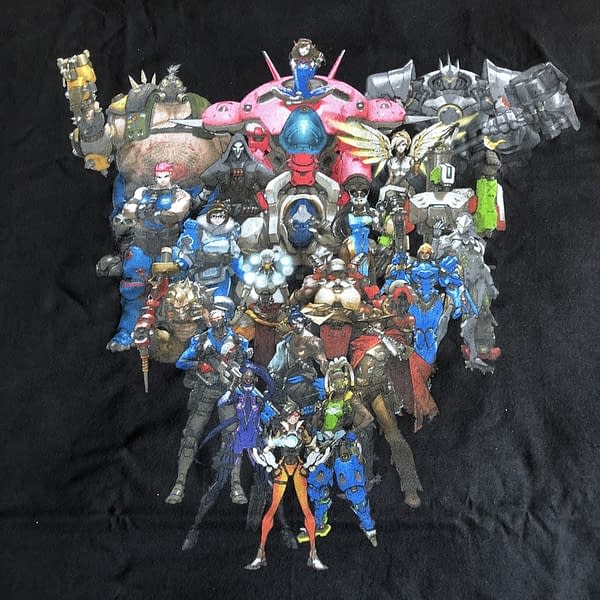 It pains me to say this, especially being an Overwatch fan, but this box is more miss than hit, but just barely. The best way I can describe this box is that it feels like a bunch of items from previous boxes that didn't make the cut were thrown together. There's not even a theme for this one as half of it is one game, and the other two have nothing to do with the first. It's a mix/match that makes zero sense. I really hope Loot Gaming turns it around next month, because I was 50/50 on this one and confused by what was inside on multiple levels.