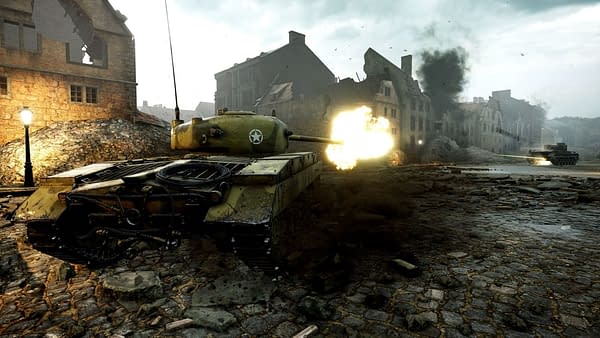 European game developer and publisher Wargaming has announced that its massively popular tank battle game World of Tanks: Mercenaries has reached the 17 million player milestone in terms of worldwide player counts. To celebrate the achievement, Wargaming has rolled out the latest game update for Xbox and PS4 players which introduces new content features. Update 4.6's biggest change comes by way of a fresh combat perspective for Artillery class vehicles, however tank commanders can expect new Mercenary-themed tanks, crews, maps, and more from the update as well.
The update to Artillery class vehicles is pretty simple – it literally gives players a new POV to choose from while controlling an Artillery vehicle. The "Trajectory" view will exist alongside the birds-eye Artillery view, but brings the camera lower to the ground and rotates to follow the shell's trajectory, using the tank itself as the camera's pivot point.
Wargaming hopes the new view will give players more variety and options when it comes to their Artillery playstyle by bringing players closer to the action.
Additionally, thanks to a high level of demand from players, health bar numbers have been added to enemy and ally vehicles. When switched on, this feature gives players an indication of the state of their own team, or how much health still needs to be knocked off opponents.
If that wasn't enough, Mercenaries Update 4.6 expands on the Mercenaries Tech Tree, offering a ton of powerful new vehicles including:
Thresher: a well-armored Light Tank with an aggressive weapon. It's operated by Dark Fox, a New Zealander who served under British command during World War II before going rogue and seeking revenge against Axis forces.
Long Reach: a Heavy Tank that brings together the best of British, German and Soviet engineering. It's captained by Brutal Beast, a Swiss ex-spy who travels across Europe, liberating towns and their people from German rule.
Sharpshooter: this Medium Tank combines machinery from Axis and Allied tanks, making for a nimble vehicle that packs a reliable shot. It's under the command of Red Sentinel, an Italian soldier driven mad by the heat as he held his position against waves of Allied soldiers in a small Tunisian town.
However, it isn't just the Mercenary Tech Tree that's getting more tanks. Players can also work toward brand-new Tier X vehicles in the Chinese and British Tech Trees. The new Chinese and British vehicles include:
WZ-111 5A: a fearsome new Chinese Heavy Tank that has excellent armor and speed – enemy tanks will struggle to get the jump on it.
Super Conqueror: a British Heavy Tank. With all-round thick spaced armor giving it top protection from every angle and great handling, it is a menace to slower enemies.
Finally, two new maps have been added to Multiplayer battles:
Caen – 1944 is inspired by a real town in north-western France that was liberated from German control during the Battle of Normandy. It was originally used as the basis for the epic finale of the War Stories campaign Operation Sealion, where the story's heroes finally drove the amphibious German invasion out of wartime Britain. With undulating hills, a large central ridge and a vast beach to the east, this map is primed for explosive showdowns.
Pearl River is an idyllic valley bathed in golden sunlight, this map features rugged terrain that allows players to engage in ambushes and flanking maneuvers. Stalk along the riverbed that cuts through the map to launch a direct attack on the enemy base!
You can find more details on Update 4.6 here.
Enjoyed this article? Share it!