Wargaming has dropped a ton of new content into World Of Tanks this week, as you will now be taking on holiday-themed missions and ops. From December 13th to January 14th, the will gift players a present that features one random decoration and personal missions for 5x XP. They've also added in the Snow Maidens, which will also be rewarding players for hitting certain levels of Festive Atmosphere. You'll also have a new garage to decorate your tank in the most festive way possible. Enjoy the new content in World Of Tanks.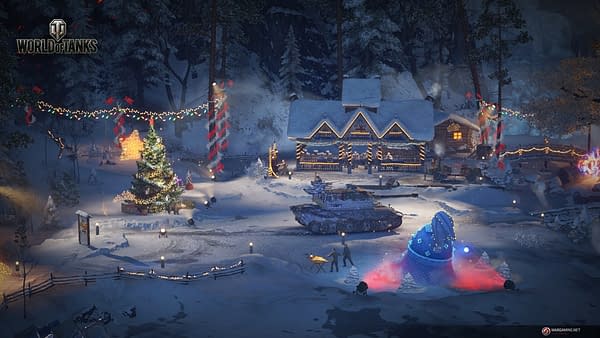 This new garage features an interactive Christmas tree, a feast, an installation and a yard, all ready to be adorned to your liking. There are more than 300 different decorations to be found and 4 collections to be completed (Christmas, New Year, Magic New Year and Lunar New Year). So, get ready to deck the garage with bundles of decorations, fa-la-la-la-la, la-la-la-la!

Normally at Christmas, only the best behaved get rewards, but not with Holiday Ops; players will receive decorations for causing destruction, creating their own New Year's firework display and completing special missions in Random Battles. By putting up these ornaments, tankers will increase their Festive Atmosphere and each new level will bring special rewards!

Once players reach level 5 of Festive Atmosphere, they will be introduced to a brand-new Holiday Ops 2020 mechanic: the ability to create their own dream team of vehicles that will earn additional bonuses in battle. The machines chosen will become Holiday Ops vehicles and depending on their class, they will earn extra Battle XP, Free XP or Crew XP. Tankers will initially start with one Holiday Ops vehicle slot at level 5, but with each level increase, a new slot will be unlocked. The Festive Atmosphere level that unlocks a new slot corresponds to the vehicle tier which can be placed there; level 5 is for Tier V vehicles, level 6 for Tier VI, and so on.