Wunderbar Takes Mythic Dungeon International Championship
Over the weekend, Blizzard held their Mythic Dungeon International Battle for Azeroth Global Championship live online for all to see. Like a lot of esports systems, Blizzard had to think outside the box a bit when it came to COVID-19 putting the kibosh on everything for 2020. The Mythic Dungeon International was one of the ways they could keep players interactive in the esports system while playing from home as they social distance. Competitors from all over the globe took part in the tournament, but it was Wunderbar who ended up taking it all. Here's the official recap from Blizzard's esports team.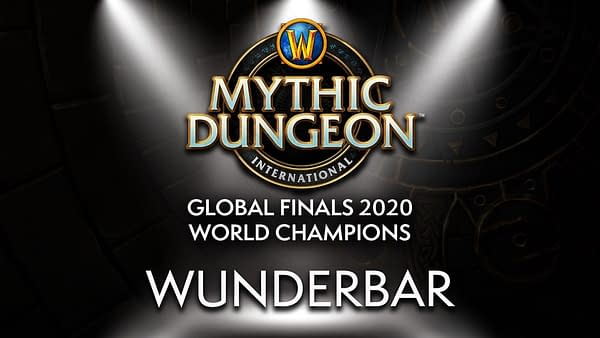 After securing their spots following the six weeks of MDI Cup competition, the top four teams from Americas and top four from Europe & Asia faced off this weekend in the Battle for Azeroth Global Finals. Wunderbar and Golden Guardians, the top teams in Europe & Asia and Americas, respectively, initially faced off in the Upper Finals, where Wunderbar swept Golden Guardians 2-0. Forced to the Lower Finals, Golden Guardians secured their chance to seek revenge against Wunderbar following their victory over Deplete From Beyond. Wunderbar and Golden Guardians have a long history of battling for MDI glory. Wunderbar, formally Method EU, secured their second consecutive championship after defeating Golden Guardians, formally Method NA, at the 2019 Global Finals.
Wunderbar took home the prize of $150k out of the $300k prize pool, but the bigger victory came for Blizzard as they were able to prove (with a few minor hiccups) that their system is pretty sound to continue online tournaments for the time being. World of Warcraft esports will return on August 22nd with the Arena World Championship Circuit, which will be a four week series of games that will culminate in the AWC Battle for Azeroth Finals – Europe on September 26th, and AWC Battle for Azeroth Finals – North America on September 27th.