Wyrd Releases for February: More Monsters, More Firepower
Wyrd Games is packing their latest game, The Other Side, all the way to the gills with brand new releases in February! Here's a look at all the creatures and units coming our way!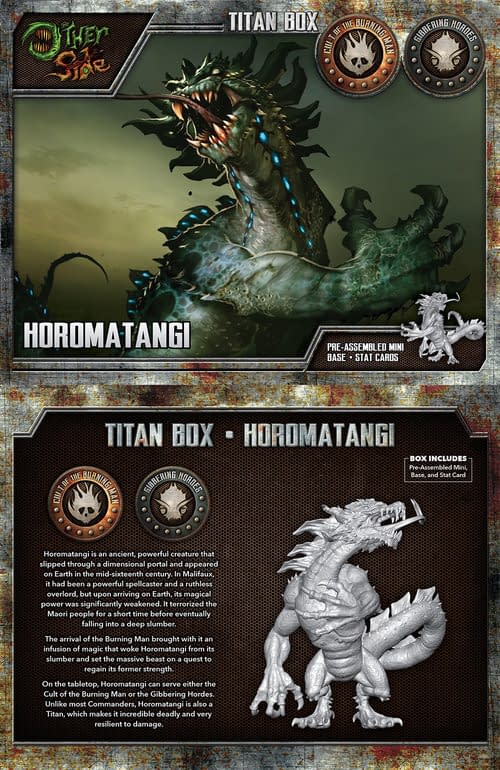 Horomatangi is a powerful creature, brimming with ancient magic. The creature escaped Malifaux several hundred years back, but found it's magical energies depleted. With the emergence of the Burning Man in London, Horomatangi has awakened, fully charged up and ready to lay down some carnage! Horomatangi can be fielded as a command option for both the Cult of the Burning Man and the Gibbering Hordes factions.
Kassa Okoye is a support character and can be fielded by Abyssinian and King's Empire factions. Kassa excels at repairing Titans, and can buff them with extra actions.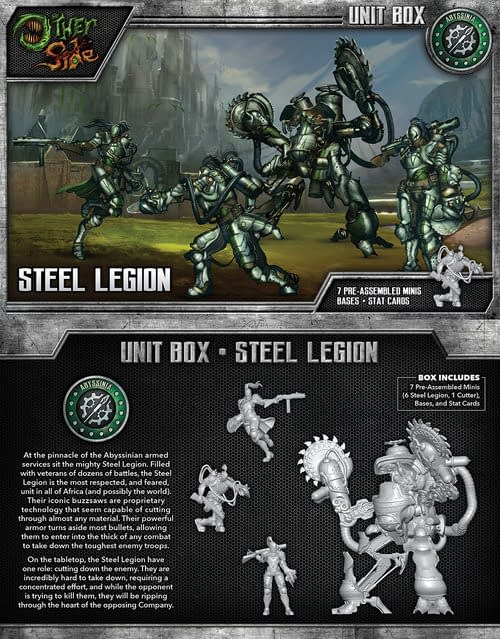 The Steel Legion are the elite armed forces of the Abyssinian Army, specializing in ripping through enemy armor. The Steel Legion are also exceptionally well armored, so they are hard to take out of action. Plus, they have a big mechanized cutting robot, so they win in the "AH! COOL ROBOT!" category.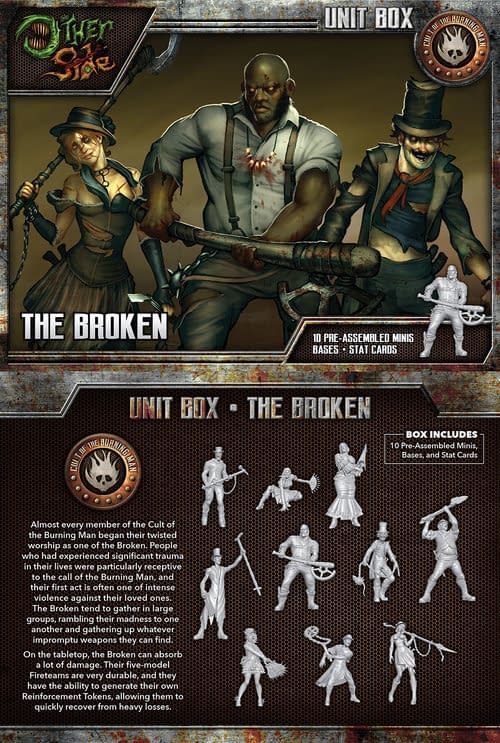 The Cult of the Burning Man calls to those that have experienced extreme trauma, and the ranks of the cult are made up of these wretched outcasts, universally known as The Broken. They're a mob unit, utilizing impromptu weapons to great effect.
Hailing from the coastal regions of Malifaux, Karkinoi are a fast attack option for the Gibbering Hordes. The Karkinoi have no natural predators on Earth, and they have been breeding rampantly in their new environment. Karkinoi lay eggs in the remains of their prey, making them a really gruesome addition to the Malifaux grimoire.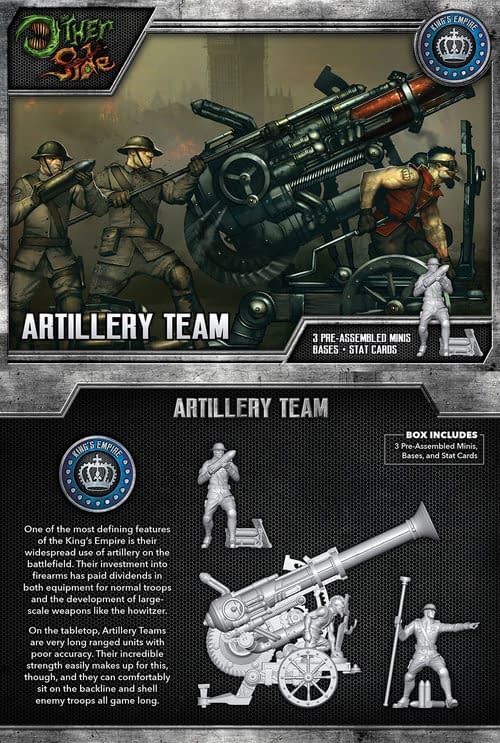 With all of those monsters and drooling beasties popping up, King's Empire troops will be relieved to have reinforcement from these artillery teams! The cannons are long-range powerhouses, and more than make up in firepower what they lack in accuracy.
What's really great about all of these Other Side minis is that they'll go great with Malifaux games, and really add some menace to Through the Breach RPG sessions. Plus, the figures arrive pre-assembled, so you won't need your engineering degree to put your new figures together.
All of these models are due out in February, and should be available to pre-order from your local game store now!