Xbox Game Studios Have Announced State Of Decay 3
During the Xbox Games Showcase, the Xbox Game Studios team officially announced State Of Decay 3 is on the way for Xbox Series X. Like a number of the trailers that were revealed during the showcase, we don't get a lot of context to what we're seeing. Just the state of things as they are. The trailer shows off a woman in the woods sharpening a hand-made arrow while fending off what looks like a wolf with her own scream. We cut to morning in a frozen area of the world where we see her tracking a wounded animal, but not one she did any harm to. We finally see her finding the beast that had been taken out, only to find that it was taken out by something much larger and scarier as we see a Moose that has clearly been infected by whatever has caused the zombie apocalypse they all currently sit in.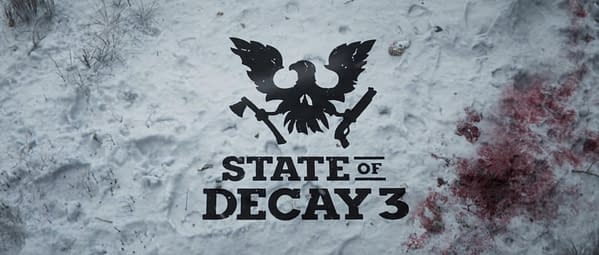 Since there's nothing really to go on plot-wise, we can't really tell if this game will be its own story in a different part of the world, or if it will continue any of the threads from the first two games beyond the obvious idea that you need to survive with other humans. We're guessing based on the fact that there doesn't seem to be any real indication of change, it'll be much like the last game, only now you'll be dealing with the fact you're in a cold and snowy area. We'll see what comes of the game in the months ahead, but we're guessing if this is all they had to show us, we won't see much else until 2021 rolls around. Until then, enjoy the trailer.