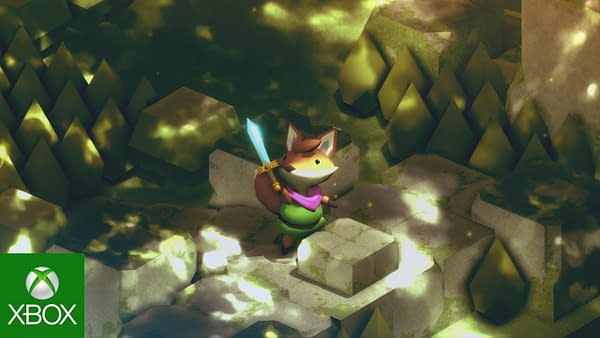 One of the few Indie Xbox games to get a standalone trailer, Tunic is an action adventure game reminiscent of Polyarc's Moss. The game is being developed by Finji and is an isometric adventure game that puts players in the shoes of a tiny fox in a big world. Players will quest about a "place just beyond the farthest you've ever been" exploring ancient ruins, fighting monsters, and uncovering mysterious secrets.
As Polygon reports, Tunic was initially revealed as an Xbox game during the 2017 E3 press bonanza. The game is created by Andrew Shouldice, also known as Finji, which is a one-man development studio working out of Halifax, Nova Scotia. The game was originally announced as Secret Legend back in 2015. It's got some pretty obvious Legend of Zelda vibes going for it, what with that sword pose and green tunic. It's sure to be a cute one, if nothing else.
It will be an exclusive Xbox One property, but no release date has yet been set.
You can check out the new in-depth trailer below.
TUNIC is an action adventure about a tiny fox in a big world. Explore the wilderness, discover spooky ruins, and fight terrible creatures from long ago.
Enjoyed this article? Share it!