Minecraft has moved into a new age as NVIDIA has launched an open beta for players to experience it in RTX on Windows 10. This project has been ongoing for a while as, to be pretty blunt, the NVIDIA team wanted to put an extra bit of shine onto a game that sometimes can look super pixilated and dirty on even the best 4K monitor. This system now brings fully path-traced rendering, physically-based materials, and NVIDIA DLSS 2.0 to the game, designed to give players a much more enriched and graphically pleasing experience. We have some of the details about it below as you can try the beta now. But ti does come with some restrictions since this isn't a part of the main game.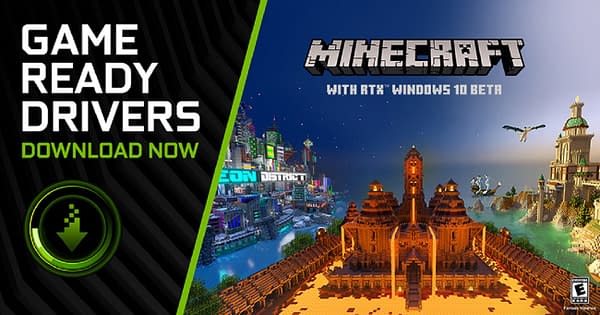 "To demonstrate the full capabilities of Minecraft with RTX's new technologies, which deliver unbelievable sights with jaw-dropping, previously-impossible-to-achieve effects, we have worked with Minecrafters to create 6 stunning Creator Worlds, downloadable for free from the in-game Minecraft Marketplace. The results of Minecraft with ray tracing are astounding – realistic hard and soft shadows are seen everywhere; global illumination realistically lights the world, with that light filling interiors through windows and gaps in the terrain; illuminated blocks and other light sources cast pixel-perfect lighting; reflections are seen on all reflective surfaces and blocks, with a level of fidelity far surpassing that of screen space reflections; light reflects, refracts and scatters through water, ice, stained glass, and other transparencies; and atmospheric effects occur naturally, resulting in high-quality volumetric fog, and pixel-perfect god rays."
Before we proceed further, there are a couple of things to note if you've played Minecraft Bedrock on Windows 10 before now:
Any world you open while participating in the Minecraft with RTX Beta

will not be available

to be opened in other Minecraft for Windows 10 betas on the Insider program, the full non-beta version of Minecraft with RTX that's launching at a later date, or the Java version of Minecraft. We therefore recommend you make copies and backups of all worlds you wish to play in the Minecraft with RTX Beta, so you can restore them at a later date in other versions of Minecraft.
You may need to uninstall Minecraft and/or the current Xbox Insider Minecraft Windows 10 Bedrock beta, in order to download the Minecraft with RTX beta when you opt to participate in the new beta. Please back up any worlds you wish to keep before signing up to the new beta, or uninstalling old versions of the game. Once your worlds migrate over to the Minecraft with RTX beta, you will not be able to go back to the previous version of your worlds.
Enjoyed this article? Share it!