"Zombieland: Double Tapper" Releases Onto Mobile Today
Sony Pictures Television Games, Tilting Point, and Metagame Studios have officially released Zombieland: Double Tapper on mobile devices today. The game lets players slay zombies across the land in dozens of missions New England to California. You get an array of weapons to build and utilize as you take out a variety of zombies from coast-to-coast. Enjoy the launch trailer below and some quotes from today's press release about the game. You can download it right now for free on iOS and Android.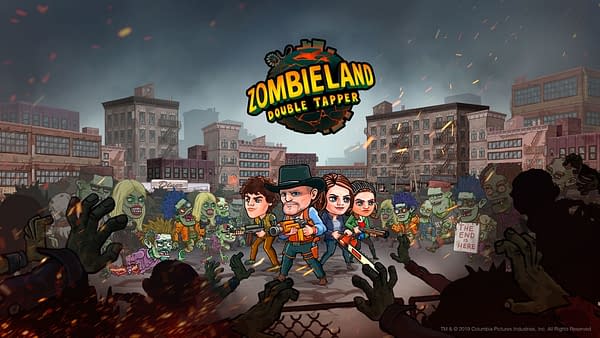 "Zombieland: Double Tapper finally brings the film's unique blend of humor and action to mobile devices," said Paul Joffe, Vice President, Sony Pictures Television Games. "With loads of characters, weapons, and items to collect and combine, players will have hours of fun creating new ways to kill zombies as they travel across America."

"Co-developing a title tied to a popular franchise like Zombieland showcases our commitment to creating authentic experiences on the mobile platform," said Samir El-Agili, President of Tilting Point. "We are excited for fans to see the results of our collaboration, and will continue to leverage our expertise and deep knowledge of free-to-play mobile games to ensure players are getting the best Zombieland experience."

"It has been a wonderful experience bringing Zombieland: Double Tapper to life," said Daniel Nay, Co-Founder and CEO of Metagame Studio. "Combining idle RPG mechanics with a deep upgrade system has allowed us to create a game that is fun to play but challenging to master."