Adult Life Skills, the quirky indie comedy-drama starring Doctor Who's Jodie Whittaker, is getting a US release on January 18th 2019 in theatres and VOD.
The movie was originally made back in 2016 and released in the UK in 2017, way before Whittaker was cast as the 13th Doctor. It got good reviews and played at film festivals across the world, including the Tribeca Film Festival in New York City, and seemed to fade from sight. Now, with Jodie Whittaker's newfound popularity in Doctor Who, the movie has been picked up for US distribution.
The story is everything you expect from a quirky little British indie movie. Jodie Whittaker plays Anna, an oddball who lives in her mother's garden shed making odd little videos, refusing to grow up, get a boyfriend or stop driving her mother and grandmother crazy with her slackerdom. Her job at the local park is barely real life. She's in mourning for her twin brother and the movie is a coming-of-age story about living through grief and depression.
Whittaker has said the movie was a personal favourite of hers. There's a sense of how this is what her career was like before Doctor Who. She was still a regular on Broadchurch, the crime drama created and run by Chris Chibnall, and played Beth Latimer, the woman whose son's murder kicks off the entire series. Broadchurch became the biggest show in the UK, made Chibnall the hottest showrunner there, and ultimately led to him getting offered the job of showrunner of Doctor Who, which also led to him offering the role to Whittaker.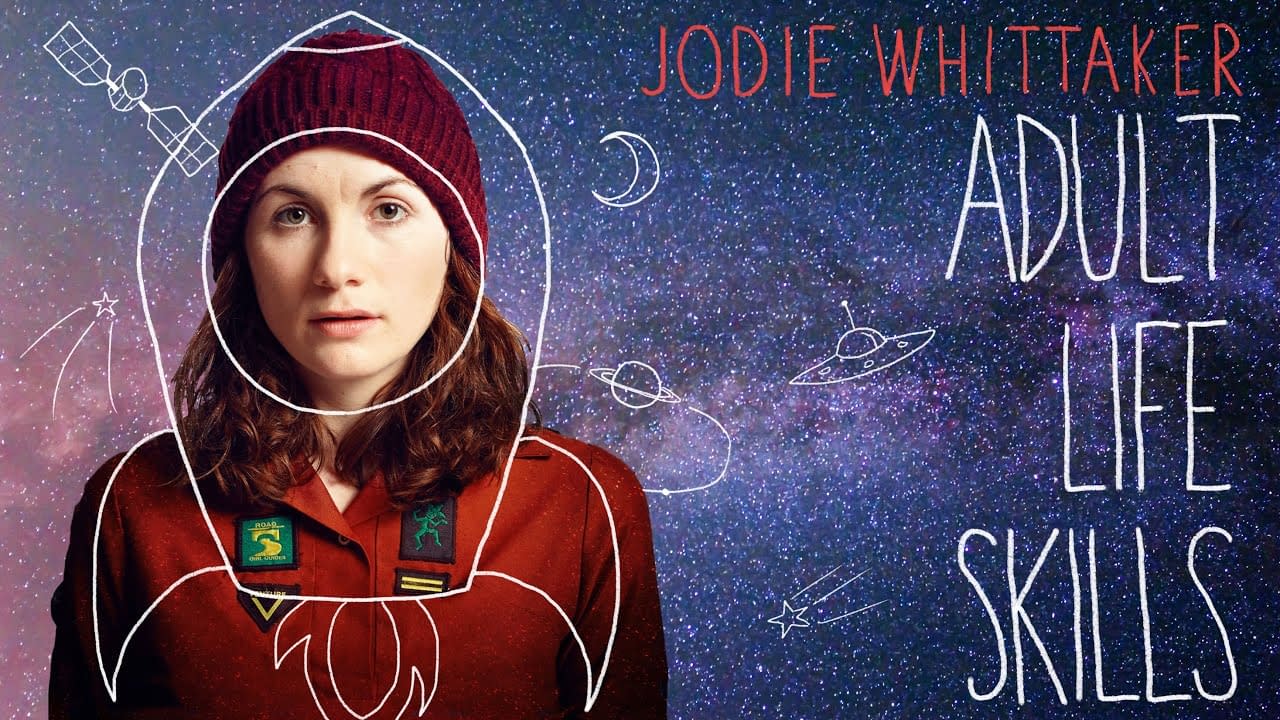 What's especially interesting is that Whittaker did most of the emotional heavy-lifting on Broadchurch as a mother dealing with grief and rage, and many of her roles up to that point had been as dark, emotional characters, despite her reputation off-screen as someone with a chirpy, quirky sense of humour, a quality she has finally brought to Doctor Who. You can tell which period this movie is from because it was made before Whittaker went blonde. After Broadchurch its three-season run, Whittaker starred in the BBC medical thriller Trust Me, playing a nurse from London who takes on a new identity as a fake doctor at a hospital in Scotland. Then she was cast as the 13th Doctor and everything changed. You could say Adult Life Skills is one of the stops on her path to Doctor Who.
Note that the trailer mentions Whittaker as the new star of Doctor Who to capitalize on fan awareness of the show. That's who they expect to be interested in seeing the movie in the US. Movies that aren't big studio blockbusters with massive marketing budgets have a hard time finding an audience or getting attention these days. Whoever is in charge of the marketing at Screen Media Films, the US distributor, is making a smart call with identifying a presold audience of Doctor Who and Jodie Whittaker fans for the movie.
Enjoyed this article? Share it!