Agents of SHIELD Season 5, Episode 18 Recap: All Roads Lead…
This article contains spoilers for Marvel's Agents of SHIELD season 5, episode 18, 'All Roads Lead…'.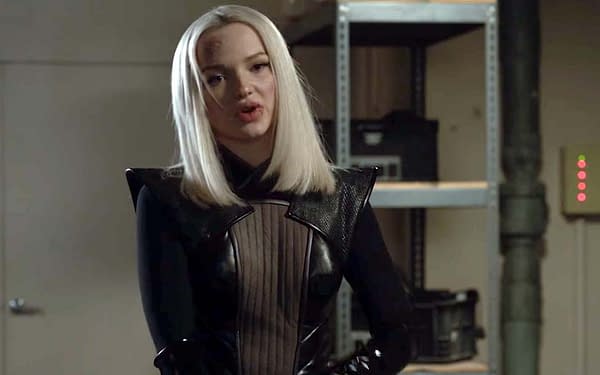 The latest episode of Agents of SHIELD had two main storylines going on. We open with Fitz (Iain de Caestecker) and Simmons (Elizabeth Henstridge) captured by Ruby (Dove Cameron) and forced to repair the damage they did to the Particle Infusion Chamber. Strucker (Spencer Treat Clark) arrives and says that there is someone else out there, but he has the drones looking for them. He means Yo-Yo (Natalia Cordova-Buckley) of course.
Meanwhile, Daisy (Chloe Bennet) puts together a raid with May (Ming-Na Wen) on the Hydra base, but they leave Mack (Henry Simmons), Coulson (Clark Gregg), and Deke (Jeff Ward) behind. They raid goes in to get General Hale (Catherine Dent) who gives up immediately in hope of getting SHIELD to help her save Ruby. It seems gravitonium screwed up Creel (Brian Patrick Wade) pretty bad, and she doesn't want that to happen to Ruby. Meanwhile, Talbot (Adrian Pasdar) has had his programming triggered and he covertly starts following his Hydra orders. And this is where the two stories start.
Hale, Daisy, May and the team head to the facility where Ruby is. Meanwhile, Strucker sees that Fitzsimmons set the chamber to fail and force them to fix it. Yo-Yo is back on the Quinjet trying to deal with the pain from her robotic arms malfunctioning at her super-speed. With the chamber correct, Ruby goes in and they start the process. The gravitonium moves right into the process like it wants to merge with her. But as it starts, Ruby begins to scream in pain and begs to be let out. That's when SHIELD busts in and Fitz stops the process at only 8% of the gravitonium being merged with her. They open the chamber and Ruby floats out then drops to the floor.
She is having a hard time dealing with the other voices in her head, trying to take over. Strucker tries to comfort her, but she can't control her powers yet and crushes his skull. Hale tries to calm her down — she wants the process undone, but Fitz says that the chamber doesn't work like that. She attacks them, but Hale gets her attention. May gets Fitzsimmons out of there while Yo-Yo is going in. Hale and Daisy try to talk Ruby down and seem to be making progress when the other personalities try taking over… then suddenly she stops talking and we see that her throat has been slashed open. We cut back to see Yo-Yo holding Ruby's throwing blade with blood on it. Ruby's body raises up and there's a bit of wave that goes out from her, knocking everyone down. Hale has disappeared, Ruby's body is on the floor, and Yo-Yo says she saved the world.
At the Lighthouse, Talbot arms himself, takes out the cameras he needs to hide from, and then goes after Robin (Lexy Kolker). He talks with her and she seems to know that he's going to try to take her. He knocks out her mother without killing her, then tries to get out of the Lighthouse with her.
Coulson and Mack spend some time messing with Deke about his feeling for Daisy, but they eventually realize that one of the camera feeds is on pause and discover what happened to Robin. They track down Talbot and confront him. When he can't get out and Coulson starts using the trigger phrase, Talbot turns the gun on himself. This allows Mack to get Robin to safety. Coulson uses the trigger phrase again and commands Talbot to turn the gun on him. Talbot complies, and as soon as the gun is away from his own head, Mack steps in and fires a shot, taking Talbot down. Going to assume with an 'icer' round because that's how these agents roll.
It may seems like SHIELD has won. Ruby is dead, Talbot stopped, Hydra in shambles, they have the gravitonium and everyone is alive. Yay team! Except Hale disappeared… and reappeared in that weird, alien meeting area where she tells Qovas (Peter Mensah) that SHIELD has the gravitonium and offers to take them there… and that she won't interfere with them killing all of SHIELD. Turns out that she's a bit upset that her daughter was killed.
Next week, the aliens attack the Lighthouse. Only four episodes left in the season… and possibly the series.