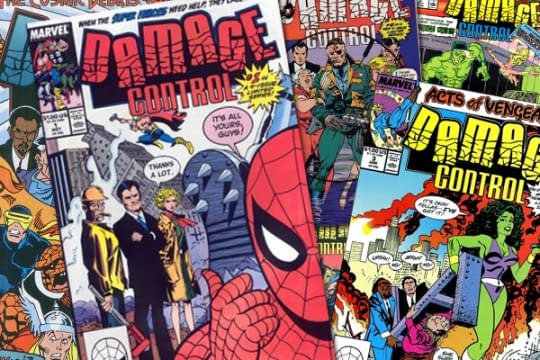 The Hollywood Reporter had the word that The Daily Show and The Colbert Report's Ben Karlin is developing a TV series for ABC based on Damage Control, the Marvel comic create by the late, great Dwayne McDuffie and Ernie Colon.
And that ABC has ordered a script for a half-hour, single-camera comedy.
The comic focussed on the people who clear up after superhero fights, replacing buildings, removing giant robots and dealing with mysterious energy balls of cosmic forces that transform workers into cosmic being of power who take t the stars. "We lose more people that way…" Then there's the office side of the business, such as when Doctor Doom doesn't pay his bill…
The first appearance of the team was in Marvel Comics Presents #19 – and there's a sudden rush on eBay for the suddenly much in demand comic book…
Enjoyed this article? Share it!