Avengers: Infinity War Review – The Epic We All Wanted [Spoiler-Free]
[rwp-review-recap id="0"]
Do not worry — there will be no spoilers here.
I couldn't do that to you. Avengers: Infinity War is this generation's most-anticipated film. For someone to ruin that for the audience is irresponsible and reprehensible. After 10 years, 18 films, television shows, shorts, trailers, and everything else — we have arrived. The War is here. And it is magnificent.
We all know what is happening here. Thanos (Josh Brolin) is traveling the cosmos collecting the Infinity Stones to try to bring balance to the galaxy by eliminating half the population. In his way stands the heroes we have spent a decade watching on screen and moving into place. Epic battles and huge surprises await all those watching.
Going into the theater, my number one concern was that the Russo Brothers (Anthony and Joe) could not juggle this many characters at the same time. They did a great job with Captain America: Civil War, but even that only had half as many people we would see in this film, and none of them were Groot. My concerns were put to rest almost immediately. They effortlessly gave the film a through-line that gives everyone a chance to shine and have their moment, from Wong (Benedict Wong) up to Tony Stark (Robert Downey Jr.). You can feel how much fun they are having through the screen.
And the shackles are off. This is the MCU unleashed in ways many have been waiting for. There is jaw-dropping action mixed with real emotional heft and some of the best one-liners we have seen in these films. Seriously — Infinity War may be the funniest film they have done. This is not to say that there is not intense drama in play here — there is. The stakes have never been higher. For all of those "these MCU films never have stakes" people, you should be satisfied by what plays out.
With so many characters here, some will stand out more than others. Kudos to the creatives behind the film for the pair-offs of characters and nailing all of them. Benedict Cumberbatch reminds us that nobody talks down to people better than his Doctor Strange. Gamora (Zoe Saldana) and Drax (Dave Bautista) represent the Guardians in the most emotional and funniest way. It is so easy for the Guardians characters and their big personalities to take over every scene they are in. Tom Holland continues to erase all other Spider-Men before him.
But two stood out above the rest. Thor has been the most boring character in the MCU before Thor: Ragnarok last year. After that film and now Infinity War, I have completely turned around on him and now I hold him near and dear to my heart. Chris Hemsworth being allowed to be humorous and do more than have muscles may be the smartest thing they have ever done in these films. I wish they had done it sooner. He and Rocket make for a wonderful pair throughout, and I want a team-up film for them so badly!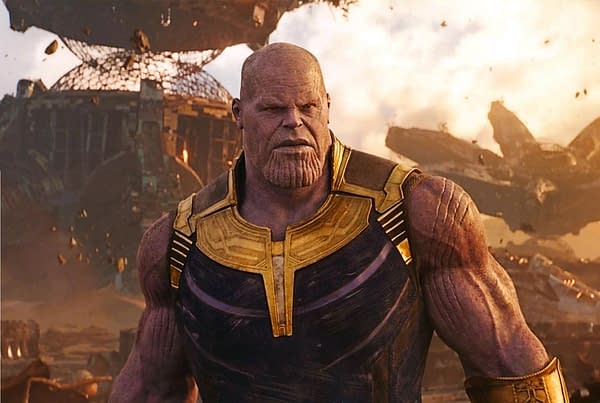 The other is Thanos. He is as menacing and brutal as everyone hoped he would be. Right from the outset, it is established that this is not someone who is messing around. Brolin really is the perfect choice to breathe life into the Mad Titan. He plays him with such quiet force from the beginning and just keeps ramping up the intensity further and further and further until it can't be contained anymore and we see what he is really capable of. It is a thing of beauty — fans should be extremely happy with what they are given here. He is hands down the best Marvel film villain of all time (sorry Killmonger!).
Everything about this film works. Traditional pacing is thrown out the window, and that is okay — this is the culmination of everything we have been enjoying and speculating about for a decade. Sit back, grab some popcorn, and let Infinity War sweep over you. Grand, epic storytelling like this does not come around as often as it used to. This is a love letter to fans, and the only thing left for everyone to do is read it.
[rwp-review-ratings id="0"]
[rwp-review-form id="0"]