Benedict Wong Can Neither Confirm Nor Deny A Doctor Strange Sequel
This morning I had the opportunity to speak with actor Benedict Wong about his role in Doctor Strange, how his character of Wong differed from the comic version and where he'd like to see the relationship between Strange and Wong go moving forward. I caught him in what he called his painter fatigue as he was working on painting a bedroom. Doctor Strange comes out digitally February 14th and on Blu ray / DVD February 28th.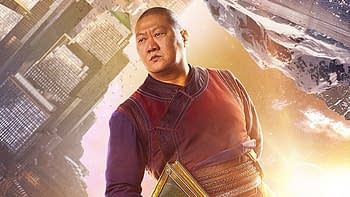 DAN WICKLINE: The Wong you played in Doctor Strange is very different from the one who has appeared in the comic books. How much influence did you have on the character and the changes that were made?
BENEDICT WONG: When I first got the job and met with Kevin [Feige] and Stephen [Broussard], I had gone through the source material from the 60's and as you know Wong was a very manservant, servile, tea making character… so I straight up asked them, "We're not doing that, are we?" And they were vehemently telling me, "no, no, not at all." I give credit to Scott [Derrickson] and Kevin as we've come up with this drill sergeant / librarian character that doesn't suffer fools gladly. It's a Wong that has seen a lot come and go before and sees through this new, sardonic student. I think it makes for a better dynamic. But they both need each other and I think that lends towards interesting drama.
DW: How do you see the relationship with Strange and Wong going forward? What do you think that dynamic will be?
BW: We're done with the introduction now, so this is a great launch pad as we move forward. Wong is now Strange's intellectual mentor. He's guiding this young pup with his new mystical powers about the severity that lies ahead. Only time will tell what will unfold. We're very proud of our movie and proud to be part of this incredible ensemble of actors. I've really enjoyed the tone of how we're telling the story. I think it's a little different than any of the others.
DW: With Tilda Swinton being cast as the Ancient One, it has left Wong as the prominent Asian character in the Marvel Cinematic Universe. Did you feel any additional pressure on you from that stand point?
BW: I tend not to think about that. I tend not to think about how many X of millions their spending. My focus and duties as an actor is to do the scene. To prep my scenes, to be pleasant in my scenes. Everything else will take care of itself. I'm just one of the cogs as we all just move together.
With regards to Tilda's character of the Ancient One, I think it's a master stroke what they've done. When you truly boil it down to the essence of what the ancient one is, it's that timeless, ethereal quality. And there isn't an actor or actress on this planet to play that except Tilda Swinton. She's almost from another planet anyway. I think she's just fantastic and you look at her incredible body of work where every character is so different. We're lucky to have her.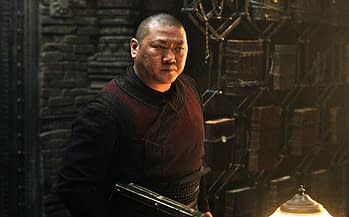 On reflection, having seen it, I think it's fantastic having Wong as this East-Asian Central superhero character. We're addressing the balance now and he's standing alongside of Strange. I think that makes for a better reading in our world and what diversity means. That we stand alongside of each other. That this is not a tiered nation. I think audiences appreciate that.
This is a very different kind of superhero movie. You've got this arrogant man of science losing his ability to heal. It's his journey on a spiritual path. Discovering these new powers and deciding if he is going to go back to his old ways or move forward with Wong in a new direction. And the idea of what is a superhero, to sacrifice one's self for the greater good. I'm very excited to see… well, I can't really confirm or deny anything… but I'm very excited to see what unfolds.
DW: It's been said that you are going to be in Infinity War, right?
BW: I can neither confirm nor deny that. All of a sudden you've created a laser dot following my body now. So just be very careful.
DW: Okay, then I assume you can neither confirm nor deny any talks of a sequel to Doctor Strange?
BW: Exactly. You would think that maybe people would be intrigued to see what might happen next. You can only see what the appetite of the audience might be.
DW: Let's get you back on safer ground then. Some of my favorite scenes in the movie were Stephen Strange trying to make Wong laugh. How often was Benedict Cumberbatch able to get you to laugh that we didn't get to see in the film?
BW: You'll see that I'm sort of holding my breath in those scenes. There's a great blooper or gag reel on the DVD and there are a lot of jokes there. He's just amazing at improvising and throwing curve balls at you. And I'm quite a smiley guy anyway off camera. But we needed that steely, stoic face… but that's just the initial version of Wong, he'll loosen up some more. Which I can neither confirm nor deny.