'Black Panther: The Album' Review: Unprecedented and Uncompromising
[rwp-review-recap id="0"]
Of all the Marvel Cinematic Universe films so far, six have soundtracks apart from their scores. Guardians of the Galaxy Vol. 1, GOTG Vol. 2, and Iron Man 2 had soundtracks solely featuring previously released music, while Black Panther joins The Avengers and Iron Man 3 as the three that feature contemporary music. The Avengers soundtrack, while lively, was so innocuous and uninspired I completely forgot it existed until doing research for this review, while Iron Man 3's was a little closer to what the kids are listening to these days — but Black Panther: The Album is another beast entirely. There's a reason why everyone's talking about this record. Black Panther: The Album is, simply put, unprecedented.
First, it seems straight-up miraculous that this is a hard-E-for-Explicit record associated with a Disney brand. MCU films are decidedly chaste and firmly PG-13, with little sensuality or profanity except in a giggly sort of way. But this… is not that. Uncompromisingly authentic, Black Panther: The Album offers an inexplicable bridge between mainstream movie culture and the unshackled vigor of contemporary hip-hop artistry. It looks like our Disney Overlords are more adaptable than we give them credit for.
Black Panther director Ryan Coogler told NPR that he approached 12-time Grammy winner Kendrick Lamar in early 2017 about contributing to the soundtrack, and Lamar came in planning to cut just a few songs. But once Coogler showed him some of the film, the next thing Coogler knew, Lamar and his label (Top Dawg Entertainment) had taken the reins of the entire project. No doubt the soundtrack would have still been impressive if this hadn't happened (see: the soundtrack for Coogler's Creed), but Lamar's hand ended up transcending it to a whole different level.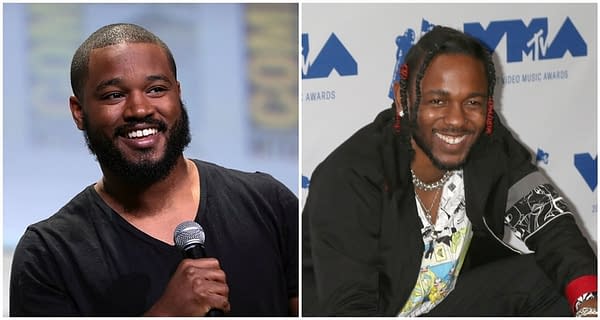 This is not just a soundtrack. This is, as advertised, an album. As curator, Lamar worked closely with all featured artists to create a cohesive whole; something carefully and lovingly crafted with the aim to bring out the unique passion and ingenuity of each contributor.
An unprecedented soundtrack for an unprecedented film.
Black Panther: The Album opens to a controlled cacophony of swelling strings and African-style drums in 'Black Panther' from curator Kendrick Lamar, and for a moment it seems we're in for a spirited tribal romp — until the sound cuts out entirely. "Wait," Lamar utters, hinting that it won't be that simple. Over sustained, distant piano notes, Lamar royally sets the stage for the following tracks. "King of my city, king of my country, king of my homeland," he says with unmatched ferocity. And when his sermon ends, "I am T'Challa." This is most definitely a Black Panther album.
First single 'All the Stars' from Lamar and star-bound R&B artist SZA is nothing less than a modern hip-hop anthem. It's been stuck in my head for weeks, and I'm not even mad about it. I'd bet this is the track we'll hear flowing out of the theater speakers once the credits start to roll.
The album is largely made up of deadly club tracks ('X','Opps', 'Paramedic!') interweaved with more low-key, smooth sounds ('The Ways', 'I Am') that all come together to produce a well-balanced and tonally fluid set of songs.
Lamar also made sure to bring on a number of South African artists (Yugen Blakrok, Babes Wodumo, and Sjava) to create a feel for T'Challa's ancestry and add a unique authenticity to the album's overall sound. Black Panther: The Album doesn't abandon the material that inspired it, either; most tracks are a seamless blend of the themes present throughout the film and the topics close to each artist's heart.
A couple songs don't land as well as most, seeming unfocused, second single 'King's Dead' being an example of this. But Lamar's last verse on the track is absolutely killer, written from the perspective of Michael B. Jordan's vicious Erik Killmonger, who aims to dethrone T'Challa in the film. Just one of the album's many rah-rah nods to the source material.
Lamar and The Weeknd's 'Pray for Me' — another contender for the end-credits spot — closes out the album with another addictive beat and The Weeknd's signature lilting croon. It harks back to some of the Weeknd's more inventive singles — you'll be humming this one long after the song ends and the album comes to a close.
Black Panther: The Album isn't here to educate, placate, or to be accessible. It is an unapologetic, triumphant celebration of black culture and the vast, dynamic histories of a vibrant continent. It's also a tightly produced, energetic, rousing ride — that just happens to be inspired by a comic book superhero. Ardent music lovers and pure geeks alike can find much to love here.
WHERE TO LISTEN
> In the car on a nighttime drive.
> In a dark room while getting frisky.
WHEN TO LISTEN
> When you're feeling powerless — or powerful.
HOW TO LISTEN
> Spotify, iTunes, Amazon
[rwp-review-ratings id="0"]
[rwp-review-form id="0"]