The Craft is one of the '90s memorable cult classics and a new generation of witches takes over for its remake in Gideon Adlon, Lovie Simone. Zoey Luna, and Cailee Spaeny with Zoe Lister-Jones directing and writing for Blumhouse and Columbia, according to Deadline Hollywood.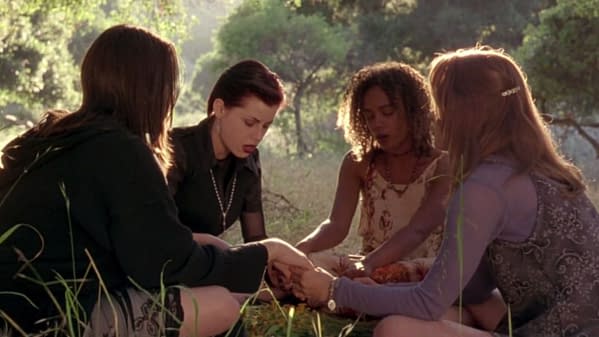 The Craft (1996) was directed by Andrew Fleming, who co-wrote with Peter Filardi was a modest box office hit generating $55 million worldwide in the box office from a $15 million budget. The film starred Fairuza Balk, Neve Campbell, and Rachel True as practicing witches at a Catholic prep high school and discover what more they could do in recruiting a fourth (Robin Tunney into their coven. The four wreak havoc on their would-be tormentors with their curses and spells.
Jason Blum from Blumhouse is producing with Lucy Fisher, and Oscar-winner Douglas Wick, who also produced the 1996 original. Fleming will executive produce with Lister-Jones, Lucas Wiesendanger, Natalia Anderson, Daniel Bekerman, Couper Samuelson, Jeanette Volturno, and Bea Sequeira.
You can see Adlon in the television series The Society on Netflix. She was also in Skin in the Game and The Mustang, both released earlier this year. Simone can be seen on the OWN TV series, Greenleaf and was also in Selah and the Spades and the more recent, Share, released in July. Luna, a transgender actor and activist, was in the season finale of Pose and became renowned for the documentary series 15: A Quinceañera Story. Spaeny will be featured on FX's upcoming series Devs set for release in 2020. She was also in many noteworthy films of 2018 including Vice, On the Basis of Sex, Bad Times at the El Royale, and Pacific Rim: Uprising.
There's no release date currently scheduled. Are you looking for the new film? Do you think anyone from the 1997 film will make an appearance or cameo in this film?
Enjoyed this article? Share it!