BOOM! Studios Day Men Adaptation Lands A Writer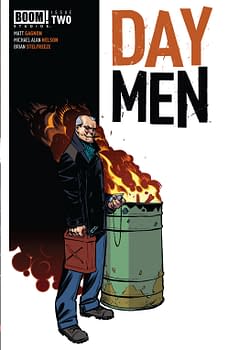 The Universal adaptation of the BOOM! Studios comic Day Men has landed Will Simmons to write the screenplay.
Day Men is created by Matt Gagnon and co-written with Michael Alan Nelson with art by Brian Stelfreeze. The series takes a twist on the normal vampire tale as it focuses on the humans that work to protect the vampires during they day. The vampires exist in an almost mafia-like hierarchy and the series follows one particular Day Man as he finds himself a key players as war breaks out between the families.
Simmons wrote a screenplay called Murder City that made the 2012 Black List – the list of the top 20 unproduced screenplays of the year. The number one film on the list that year was Draft Day which ended up being made starring Kevin Costner and Jenifer Garner.