LEGO and Marvel have released a cool new poster celebrating the 10th anniversary of the MCU. Featuring the LEGO versions of the heroes (and Loki) from the films, it spoofs the original poster they released a couple months back.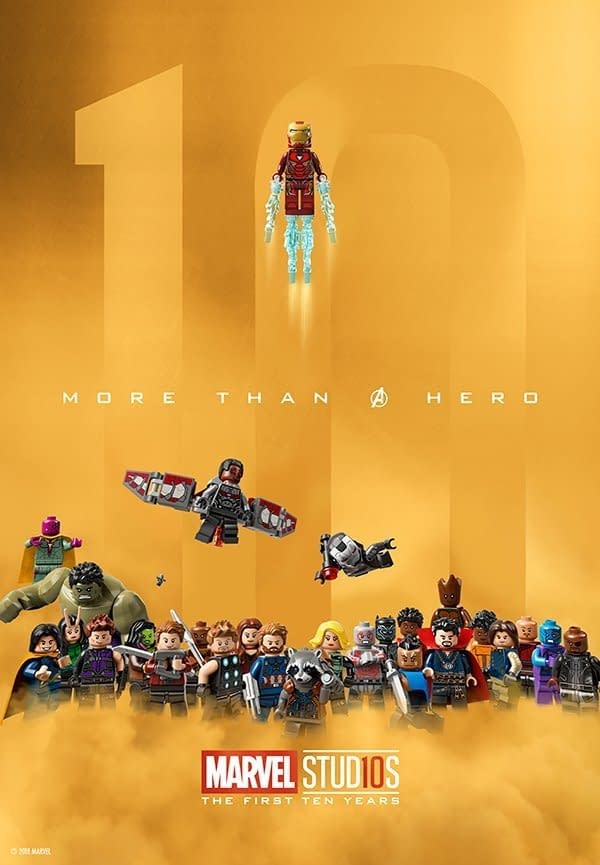 From Left to right: Loki, Vision, Mantis, Hulk, Hawkeye (see! there he is!), Gamora, Ant-Man (haha, so tiny!), Star Lord, Okoye, Falcon,Thor, Scarlet Witch, Captain America, Iron Man, Rocket Raccoon, Black Widow, War Machine, Drax, Black Panther, Valkyrie, Nakia, Doctor Strange, Groot, Shuri, Winter Soldier (or White Wolf, whatever you want to call him), Wong, Nebula, and Nick Fury. Oddly, Spider-Man is not here but he was on the original poster.
I wonder if they will be giving these out t cons this summer. I would really like to get my hands on this. A both a LEGO and Marvel super fan and collector, this could not be more up my alley. The only thing that could possibly make this better is if Thanos was on it. Hey, if Loki can be, why not? I also love how Tony is in flight above everyone else. I guess without Iron Man there is no MCU though, so it makes sense.
Everything has led to Avengers: Infinity War, which of course is in theaters in 11 days on April 27th.
Enjoyed this article? Share it!