Boundaries is based on the real relationship between writer/director Shana Feste and her father. It may not be the healthiest of things to base a film on, but it clearly served as a form of therapy for Feste.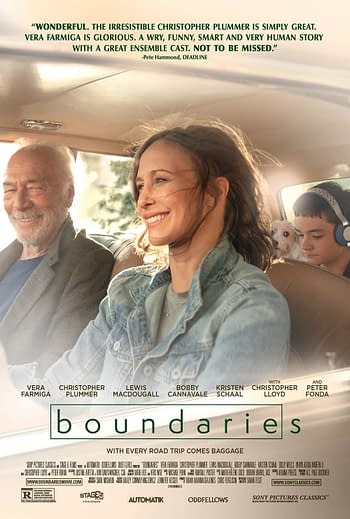 It also boasts quite an impressive cast including Bates Motel's Vera Farmiga as Laura, a single mother driving her son Henry (A Monster Call's Lewis MacDougall), and father, Jack (Christopher Plummer), across the country. Plummer spends the trip unloading a batch of weed he's acquired. Some of his friends/customers include Back to the Future's Christopher Lloyd, Easy Rider's Peter Fonda, and Ant-Man and The Wasp's Bobby Cannavale. Okay, well, the last one is technically less of a friend and more Laura's ex-husband and Henry's father.
It's fun to watch Plummer, Lloyd, and Fonda play. You can tell they agreed to do the film just to reunite and hang out. Farmiga is a smidge neurotic (the role calls for it), and it can be grating. If you've got boundary issues of your own, this might hit a little too close to home for you.
However, the family dynamics in the film ring true. While it might not be a perfect film, there are moments that are truly enjoyable.
I sat down with Feste and Fonda to ask them about their film, the best road trip they've ever taken (how Fonda got away with it is a proper miracle), and their inspiration.
Enjoyed this article? Share it!