Update 02:27 bst: The Independent has reported that Theresa May has also made a statement professing that her thoughts are with the victims and families affected.
Update 02:23 bst: The leader of the opposition has given his support.
Terrible incident in Manchester. My thoughts are with all those affected and our brilliant emergency services.

— Jeremy Corbyn (@jeremycorbyn) May 22, 2017
Update 02:17 bst: The Guardian are reporting that buses are being put in to service to ferry people out of the area, and private taxi firms are providing free rides to anyone affected by the incident.
Update 02:05 bst: The controlled explosion was a pile of clothes.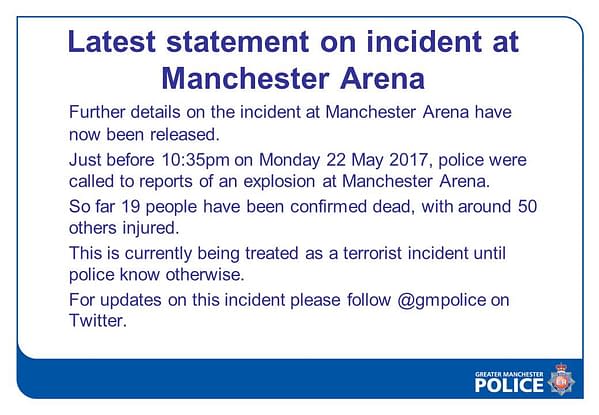 UPDATE: BBC is reporting that police have identified a second suspect device and want to carry out a controlled explosion. The Royal Oldham Hospital is on lockdown "due to the Manchester incident"
UPDATE: The BBC are reporting there have been 19 confirmed dead, with 50 injured and is currently being treated as a terrorist incident.
Manchester police have confirmed that there multiple fatalities after reports of an explosion which occurred just as an Ariana Grande concert ended this evening at Manchester Arena. The incident took place "outside the venue in a public space" and is reported to have hit the foyer of the building at about 10:30pm.
Police were asking people to stay away from the Arena area and are closing various adjacent streets. The arena has a full capacity for an audience of 21,000. Local hotels are offering to take in any youth who are stranded this evening due to area road closures
https://twitter.com/ilikemanuni/status/866792394255196160
Social media has been seeing various reports coming in from what people had seen.
https://twitter.com/RouserNews/status/866794011994009604
EXPLOSION AT MANCHESTER ARENA AND EVERYONE RAN OUT SO SCARY😭 pic.twitter.com/pJbUBoELtE

— ♡hannah♡ (@hannawwh) May 22, 2017
Police cordon massive around Victoria Station, the Arena, Cathedral and beyond. Police helicopter still circling above.

— Helen Pidd (@helenpidd) May 22, 2017
A bomb disposal unit has just arrived outside the Manchester Arena. Can also hear sniffer dogs being brought out of the vans pic.twitter.com/SgTPZxMLyg

— Chris Slater (@chrisslaterMEN) May 22, 2017
Latest statement on incident at Manchester Arena pic.twitter.com/BEpLOan3dY

— Greater Manchester Police #StayHomeSaveLives (@gmpolice) May 23, 2017
Enjoyed this article? Share it!