Bruce Timm Wants to Do a 'Superman: Red Son' Animated Movie After 'Gotham by Gaslight'
Bleeding Cool's Will Romine has just seen the DC animated movie version of Mike Mignola and Brian Augustyn's Batman story Gotham by Gaslight, premiering at the DC In DC event tonight. He says it's awesome and we look forward to a more verbose review later.
But he also reports that Warner Bros.'s Bruce Timm says he wants to do Red Son as an animated film next, another Elseworlds-style story, this time focusing on Superman — a Superman whose fleeing spaceship from Krypton landed several hours later than on the DC Earth — and so hit a collective farm in Soviet Russia rather than Kansas.
And gives us a communist Superman, in the full knowledge that Stalin means Man of Steel….
Written by Wanted/Kick-Ass/Kingsman's Mark Millar and drawn by Dave Johnson and Killian Plunkett over many years, it was finally published in 2003.
In 2013, James Tucker expressed interest in making an animated movie adaptation of Red Son for DC Universe Animated Original Movies. In 2017, Jordan Vogt-Roberts pitched a Red Son adaptation to Warner Bros., as an "offshoot" of the DC Extended Universe with different actors for Superman and Batman, but "was told no." Mark Millar responded by saying that two friends of his had been approached by WB to direct a live-action Red Son.
Well, now it seems the ball is in Bruce Timm's court. He said that if Gotham by Gaslight does well, showing an audience for animated parallel dimension stories, then he wants to do Red Son next.
Will Warner Bros. let him?
If not, you could always read the comic. It's rather good and Grant Morrison gave them the ending…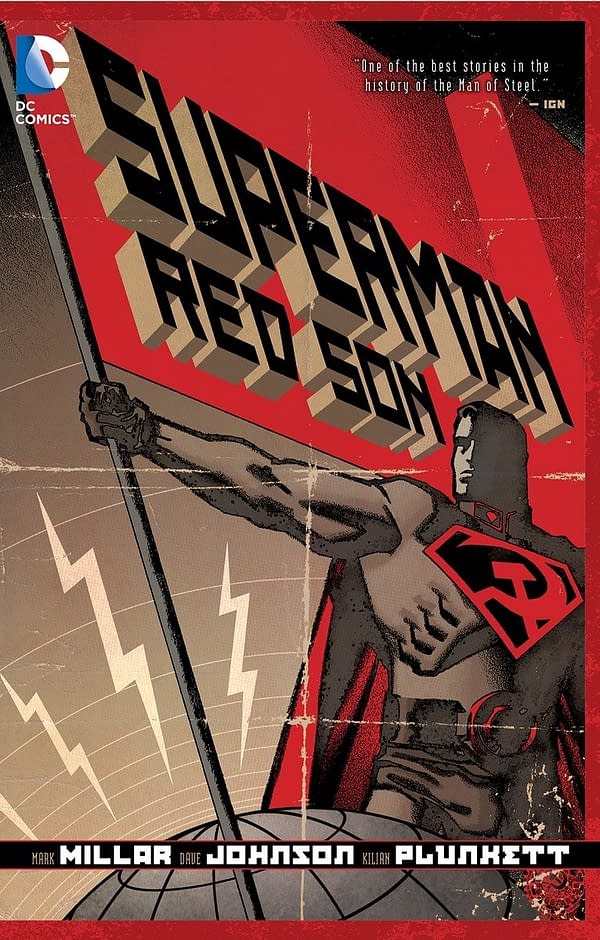 Imagine a reality where the world's most powerful super-being does not grow up in Smallville, Kansas – or even America, for that matter…

SUPERMAN: RED SON is a vivid tale of Cold War paranoia, that reveals how the ship carrying the infant who would later be known as Superman lands in the midst of the 1950s Soviet Union. Raised on a collective, the infant grows up and becomes a symbol to the Soviet people, and the world changes drastically from what we know – bringing Superman into conflict with Batman, Lex Luthor and many others.

The acclaimed story by writer Mark Millar and artists Dave Johnson & Kilian Plunkett is collected here, featuring an extensive sketch section by Johnson, Plunkett and Alex Ross. Collects SUPERMAN: RED SON #1-3.