The Castle team wraps up 2018 with one more excellent performance from our look at the often-unappreciated Bela Lugosi. For this episode we look at The Raven, a 1935 thriller that again teamed up Lugosi and Boris Karloff.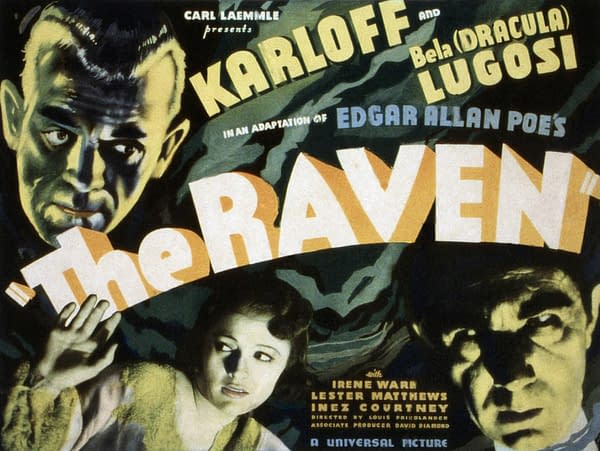 By this time, just four years after Dracula, Lugosi's star at universal was fading, while the always-approachable Karloff (here one of Lugosi's victims) was getting into a groove that would carry him the rest of his life. In this picture, Lugosi has by far the meatier part. He plays Dr. Vollin, a narcissistic genius who calls on his obsession with Edgar Allan Poe (and torture) to win the heart of a girl so age-inappropriate that even characters in a Hollywood movie comment on it. We look at this movie and then wrap up with thanks to all the listeners who wrote in and joined us over the year.
Listen here:
Listen on YouTube:
Check out the Trailer:
Castle of Horror Podcast:
Join us over on Facebook to chime in.
The show is hosted here. Get our RSS Feed. Subscribe at iTunes. Listen on Stitcher. Or on YouTube. Twitter: castleofhorrorp.
The Team: Hosted by Jason Henderson, author of the upcoming Young Captain Nemo, creator of the HarperTeen novel series Alex Van Helsing; Featuring Drew Edwards, creator of Halloween Man; Tony Salvaggio, lead singer of the band Deserts of Mars, lead guitarist of the band Rise from Fire, and co-creator of Clockwerx from Humanoids; attorney Julia Guzman of Guzman Immigration of Denver; and Jamie Bahr, lead singer and upright bassist of the rock and roll band Danger*Cakes.
Enjoyed this article? Share it!