CinemaCon is going full-force, and on the show floor our BC reporters have gotten a peek at some of the collectible cups, popcorn buckets, and drink-toppers that we will all be trying to collect all of this this summer. Films like Solo: A Star Wars Story, Jurassic World: Fallen Kingdom, Avengers: Infinity War, Deadpool 2, Ant-Man and Wasp, Hotel Transylvania 3, Teen Titans GO! To The Movies, Incredibles 2, and more will be making appearances at your local theater chains snack counters for the next couple months.
First up- the film hitting theaters tomorrow, Avengers: Infinity War! This one will have cups of all sizes, figure drink toppers, traditional drink toppers, and popcorn tins. We took a look at a couple of these closer today, so be on the lookout for all of these this weekend!
Ant-Man and Wasp is up next, with more figure toppers and cups, along with a popcorn tin that features some new key art with Ant-Man and Wasp back-to-back. I like the helmet bucket a lot as well.
The film with the most merchandise would be Solo. Oh so many cups and buckets. I really like the four characters tins with the color backgrounds. The toppers feature a lot of the new characters and troopers, while the buckets seem to mostly be Han, Lando, Chewbacca, and Qi'Ra related.
Not to be outdone, Deadpool gets his chance to shine, although I am surprised that there is not as much Cable or Domino merch too (no I am not). The creation tribute tub and cup are the ones to get here.
All of the Teen Titans GO! To The Movies merch is fantastic and I need them all.
Animation-wise, The Incredibles is getting a ton of stuff, along with Hotel Transylvania 3 getting a weird amount of stuff. Is that film series really that popular to warrant these?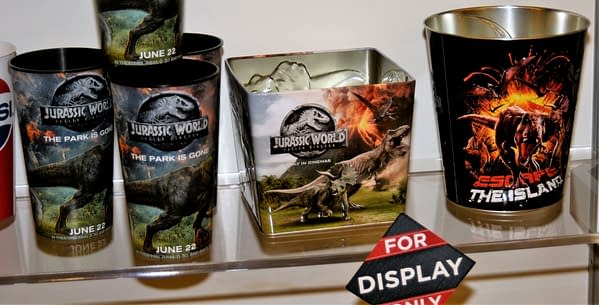 Finally, Jurassic World: Fallen Kingdom Gets matching cups and popcorn tins, along with a key art tub with the dinos running away from the erupting volcano we have seen in the trailers.
Lots to collect, lots to enjoy this summer at the theaters!