Daily 'Dune': Stellan Skarsgård's Baron Harkonnen Will Have a Fat Suit
One of our big burning questions about the patriarch of the Giedi Prime House Harkonnen in the upcoming Legendary / Warner Bros. Pictures adaptation of Frank Herbert's seminal science fiction work Dune just got answered.
We're speaking of course about Baron Vladimir Harkonnen, who will be played in Denis Villeneuve's Dune by Stellan Skarsgård, and what kind of physique he'll be sportin'.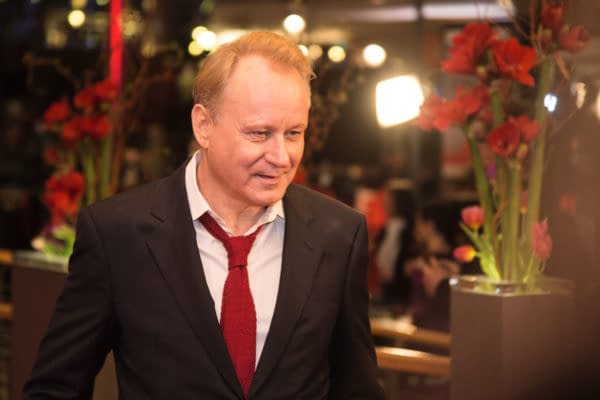 In the Dune source material, the Baron is grossly fat, upwards of 500 lbs, and uses suspensor harnesses to get around. We've raised the question when word of Skarsgård's casting hit, as to if he'd be gaining weight, a bodysuit, or possible CGI augmentation.
Stellan actually just answered the question for us in a chat with UPROXX, while discussing his involvement in the upcoming HBO miniseries Chernobyl, as well as his past involvement in the Marvel Cinematic Universe, and his upcoming turn in Dune.
UPROXX: Next, you're moving onto another huge project with Dune. Are you filming that role now?

Skarsgård: No, I haven't started. I only have two weeks on it. I'm playing the bad guy [Baron Harkonnen], and he doesn't have to show up all the time. I started doing the prosthetic tests because I'm supposed to gain a lot of weight in rubber to do it, so I'm going to spend a lot of time in the makeup chair.

UPROXX: How much weight are you supposed to gain?

Skarsgård: It says in the script that he weighs 300 pounds, and I can't gain that much weight and survive. So they're creating a body that they will have to glue on me. It will be prosthetics all over.
Two-time Oscar nominee Timothée Chalamet will star as Paul Atreides, Rebecca Ferguson as Lady Jessica Atreides, Oscar Isaac as Duke Leto Atreides,Josh Brolin as Gurney Halleck, Stellan Skarsgård as Baron Harkonnen, Zendeya as Chani, Jason Momoa as Duncan Idaho, Javier Bardem as Stilgar, Charlotte Rampling as Reverend Mother Gaius Helen Mohiam, David Dastmcalchian as Piter De Vries, Chang Chen as Dr. Yueh, and Dave Bautista as The Beast Raban Harkonnen. Hans Zimmer will be composing the score.
Set on the planet Arrakis, we find ourselves exploring the story of two warring galactic royal families House Atreides and House Harkonnen. When Duke Leto Atreides is assassinated, his son Paul and wife Lady Jessica escape only to be adopted by the Fremen, who becomes Paul's personal army against the Harkonnen as he develops powers from the spice, a substance that extends life and powers interstellar travel. A tangled web of royal intrigue is revealed with the Emperor and other cosmic powers pulling the strings while attempting to erase house Atreides.
Dune is set to hit theaters on November 20th, 2020.
Shai Hulud.