Daisy Ridley Shoring Up Post Star Wars Work, In Talks For New Thriller
Daisy Ridley is beginning to look at what is next after Star Wars. After defeating the Emperor and starting a new age of Jedi at the end of Rise of Skywalker, Ridley now looks to new challenges and maybe jumping into ta new thriller. Radio Silence has been tapped to direct and produce a new film titled The Ice Beneath Her for STX. They are in negotiations with Daisy Ridley to star in the psychological thriller, based on the 2015 novel by Camilla Grebe. The screenplay is by Caitlin Parrish (Supergirl). Radio Silence comprises Matt Bettinelli-Olpin, Tyler Gillett, and Chad Villella, recently responsible for Ready or Not, and also working on a new Scream film.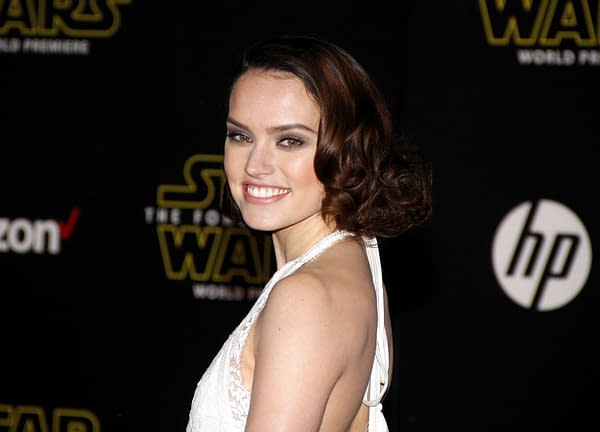 Daisy Ridley Navigates Post-Star Wars
Deadline was first with the news on this one, saying the film "revolves around a detective and psychological profiler who work to solve the case after a young woman is found beheaded in the home of a prominent businessman. The investigation quickly evolves into a race against time." That sounds like the furthest Daisy Ridley can get from Star Wars she can. The star has not shied away from her displeasure the attention Star Wars brought with it and looks to break out of the funk some young stars of the saga found when they left a galaxy far, far away.
Daisy Ridley does also have the highly anticipated film Chaos Walking with Tom Holland and directed by Doug Liman coming early next year as well. "In the near future, Todd Hewitt has been brought up to believe that a pathogen has killed all women in a colony world and unleashed Noise, the special ability to hear people's and animals' minds. Later, he comes upon a patch of silence and soon discovers the source of the silence: a mysterious woman named Viola Eade – the first he has ever met. On the run, they learn more about the true history of the New World." That film is set to come out January 22, 2021.