Darkest Hour Review: And the Winner Is… Gary Oldman
After three films set against the backdrop of World War II, and one of which is Christopher Nolan's Dunkirk, I hadn't gone into Darkest Hour with much enthusiasm. I generally expect Gary Oldman to be solid in his performance, but really — have audience really been wallowing around yearning for yet another Churchill film? Well, the answer is most definitely yes. Even if the aforementioned audiences didn't expect it, this is a film worth yearning for. For two hours, Oldman owns the screen and smoothly delivers the best performance of his career.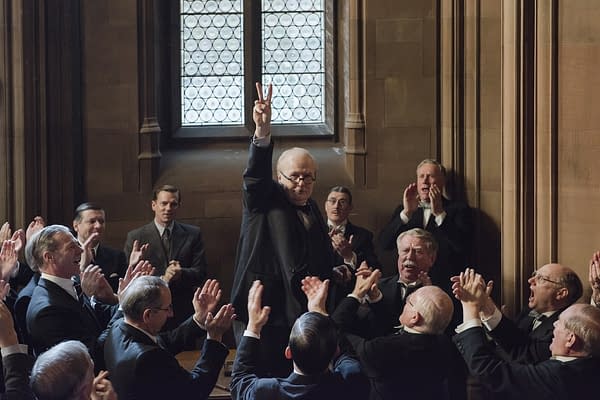 The film spans barely a month's time in May 1940 from a few days before Churchill's elevation to Prime Minister of the United Kingdom until the fall of France to the onslaught of the advancing German army. It's a study of the events swirling around the Parliament and the rapidly deteriorating situation in Europe. The prior Prime Minister, Neville Chamberlain (played by Ronald Pickup), had left the country unprepared and flat-footed. With the The King's Speech (and its four Academy Awards) so recent in audience's memories, Colin Firth is still who we think of as King George VI — but here, Ben Mendelsohn steps up to the plate and does a superb job at playing a grave and subdued monarch who knows the clouds that are gathering.
The King and Churchill have strained relationship, and Churchill is a less-than-ideal poster boy for PM. He chain smokes like a Victorian factory-house (budget rumors from the film report that more than $30,000 was spent on his cigars alone), he drinks prolifically and constantly, and he's far more hawkish than the rest of his political party would like.
The private scenes between Oldman's Churchill and his wife Clementine Churchill (played by Kristin Scott Thomas) are tender and intense. They move from a bitter argument to the comfortable banter that is recognizable as one between two people who have long loved each other and know each other's strengths and demons. They complement each other on screen and it's worth the admission just to watch their scenes by themselves. In a moment of what could have been crippling self-doubt and worry that he might be failing the Kingdom's people as he struggles to compose a speech, Clementine tells him:
"You are strong because you are imperfect. You are wise because you have doubts. From this uncertainty the wisest words will come."
Reading it on a page seems very melodramatic, but as it's said, it is moving.
A key challenge through the film is as France's defenses continue to collapse, the British army is being pushed rapidly to the sea at Dunkirk. While one might think that it would be a distraction to think about Dunkirk, having them both out this year winds up being highly complementary. Nolan's film is the experience of the soldiers on the ground, while director Joe Wright's Darkest Hour is the battle of the high command to try to find them a way home. A supercut of the two of them (plus a smattering of the Crown) would work as a brilliant long-form piece.
Darkest Hour is in theaters now.