Back in 2017, a movie kind of came out of nowhere in the fall and made a rather significant amount of money compared to its budget. Murder on the Orient Express featured one hell of an all-star cast, but it was also one of the rare movies featuring major actors that was budgeted accordingly. While looking at that cast list, you would expect a film like that to have a nine-figure budget at the very least and would need to break $200 million just to break even. However, this movie had a much more modest $55 million budget, so the worldwide box office it took in 2017 of $350 million made it a hit. They greenlit a sequel and said sequel to currently scheduled to come out this year. Kenneth Branagh is once again returning as the star and director but with a whole new cast of names for Death on the Nile. It's supposed to come out this year, but whether or not it does is anyone's guess. Now that Artemis Fowl has crashed and burned, it's time for Branagh to start promoting this movie. He was recently on The Fourth Wall podcast (via The Playlist), and he spoke about Agatha Christie and the source material they are drawing from.
"Agatha Christie really believed in what she wrote," said Branagh. "I think it was born out of personal experience being in bruising love relationships. She says in the introduction to the paperback version that she believes it has something of life in it and it really does. I think it's universality, the recognition for anyone who's been dangerously in love or as Poirot says in the book, in any relationship, there's always the one that loves too much and it can hurt terribly."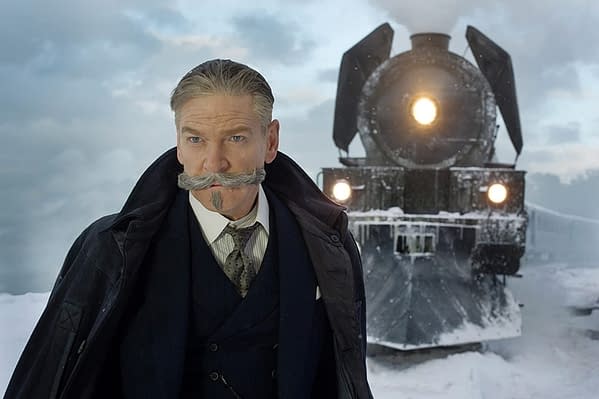 While Murder on the Orient Express had a murder in it, the movie itself wasn't particularly dark. That is very much not the case for this sequel, which Branagh describes as a "very dark, very sexy, unsettling kind of film."
"Love, as he says, is not safe and it's certainly not safe in this version. Michael Green [ the screenwriter] really has deepened the connection with the character [Poirot]. Going off of Agatha Christie's personal treatment of it, his deepening of what Poirot goes through in relation to the story and then the power and sexiness of lust and love as it runs through the story is very strong. It's a very dark, very sexy, unsettling kind of film. It certainly delivers on the travel log as it takes you to big and exciting different places, but it's very uncomfortable in ways people will really understand because it has to do with love, possession, lust, jealousy, big primal emotions that really get in people's way."
We are starting to see the fall season shift in terms of release dates in response to the ongoing COVID-19 pandemic. Studios are still optimistic about the fall and that people will be willing and able to go to the theater. We'll have to see if Death on the Nile even gets its 2020 release and if it can compete with Wonder Woman 1984, which just got moved to the week before.
Death on the Nile, directed by Kenneth Branagh, stars Kenneth Branagh, Gal Gadot, Letitia Wright, Armie Hammer, Annette Bening, Ali Fazal, Sophie Okonedo, Tom Bateman, Emma Mackey, Dawn French, Rose Leslie, Jennifer Saunders, and Russell Brand. It is scheduled to be released on October 9th.
Enjoyed this article? Share it!