"Indiana Jones 5": Lucasfilm's Kathleen Kennedy – "Only Harrison Ford Can Play Role"
Kathleen Kennedy reassured fans only Harrison Ford the one suited for the Indiana Jones franchise. The Lucasfilm president spoke with BBC News at the BAFTA Awards about the status of the fifth film set to star the 77-year old actor.
"Harrison Ford will be involved [and] he can't wait. There is only going to be one actor playing Indiana Jones and that's Harrison Ford."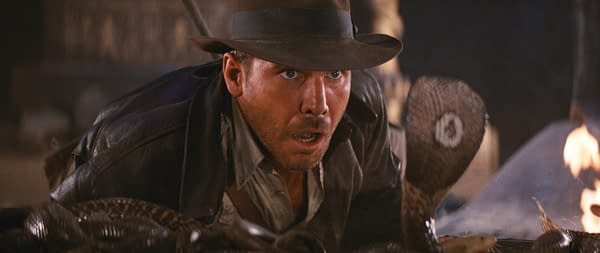 The Last Time Harrison Ford Played "Indiana Jones"
Kennedy also declared there is no reboot of the Indy franchise any time soon. Ford last reprised the role in 2008 for The Kingdom of the Crystal Skull, which despite its box office success had mixed reactions among fans. The film was the highest-grossing of the franchise at $786 million worldwide. With the three other films, the franchise combined for a global take of $1.96 billion. Crystal Skull featured the return of Raiders of the Lost Ark's (1981) Marion Ravenwood (Karen Allen). It also teased their son Mutt Williams (Shia LaBeouf) would succeed the protagonist Henry "Indiana" Jones, Jr's (Ford) place.
Created by George Lucas, Steven Spielberg returns as franchise director to helm the fifth film. Crystal Skull co-writer David Koepp is expected to return to pen the script with Jonathan Kasdan. In an interview with the Today Show, Ford stood firm saying no one else will play Indiana Jones declaring "When I'm gone, he's gone. It's easy."
In the last decade, Ford revisited another iconic role as Han Solo in two of the three Star Wars sequels in The Force Awakens (2015) and uncredited in The Rise of Skywalker (2019). In 2017, he reprised his role as Rick Deckard for Denis Villeneuve's Blade Runner 2049, 35 years after the Ridley Scott classic.
Ford will be in the upcoming The Call of the Wild for 20th Century Studios. The film comes to theatres on February 21st. Check out the trailer below.