Enter the Fat Dragon is a new film that is actually a loose remake of a film from 1978. Scratch that, star Donnie Yen says that this film is not a remake, but instead its own film, just borrowing the title. Yen stars along with Teresa Mo, Niki Chow, and Wong Jing. It is directed by Kenji Tanigaki. It also looks like a well made and well shot film starring one of the most impressive martial artists walking on earth right now. See for yourself by watching the trailer for Enter The Fat Dragon below, as well as reading the synopsis and the poster for the film.
Enter The Fat Dragon Synopsis
"A hilarious chronicle of the events that transformed super-fit super-cop Fallon Zhu (martial arts phenom Donnie Yen) into a glorified records clerk with a major snack cake habit. After a desperate request from an old colleague, Zhu teams up with a wily, wok-wielding restaurateur to solve a mysterious murder—and take his one last shot at regaining both his job and his fiancée."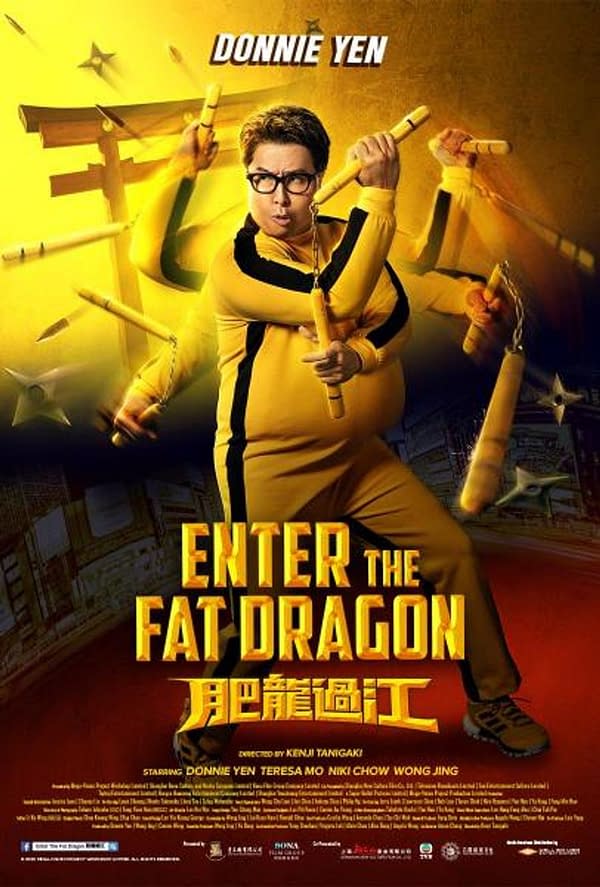 I guess my question is the same as anyone else who watches this trailer. Why exactly does Yen have to wear a fat suit? Besides playing off the title of the Bruce Lee classic, I fail to see why they couldn't have just made a kick-ass Donnie Yen movie instead of this. It goes without saying that fat-shaming shouldn't be a thing anymore, which makes this even more puzzling. What do I know though, in the actual footage he doesn't even look that big. Maybe he and Stephen Chow should team-up. Enter the Fat Dragon will be streaming here in the US later this year.
Enjoyed this article? Share it!