Bruce Campbell Reveals Exciting Details About Evil Dead Rise
Bruce Campbell recently teased his excitement for the upcoming film Evil Dead Rise and discussed the darker tone of the next chapter.
---
Evil Dead has always had the makings of a cult classic franchise, offering tons of content for its prospective audience. There have been several films within one canon timeline, a recent video game, Dead By Daylight DLC, a reboot film, and even a Bruce Campbell-focused series to capitalize on an undying love for an outlandish horror property.
More importantly, the franchise is officially laying the groundwork for another cinematic installment titled Evil Dead Rise, ditching the previous reboot and long-running storyline with Campbell in order to usher in the next era of total carnage. With an official trailer available to (carefully) watch and the film approaching in just under two months' time, the former Evil Dead actor-turned-producer is giving fans a little insight into the next piece of the puzzle.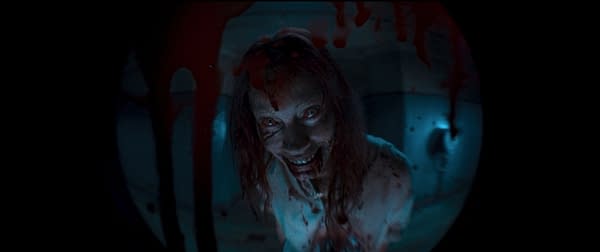 Evil Dead Rise is Aiming to be Scarier than Other Franchise Installments
When Campbell was speaking with Bloody Disgusting about the upcoming film the franchise legend addressed the next installment by teasing, "Lee Cronin did a really bang-up job. You can expect to be very disturbed. It's when mommies go bad. We dragged it out of the woods. We're in an urban environment, which gives it a really gnarly feel. I think people are in for trouble. I feel sorry for audiences in advance!"
Later, the publication discusses a comparison between the unfiltered horror of the 2013 Evil Dead reboot film and the apparent darkness of Evil Dead Rise, and Campbell goes on to explain, "Both filmmakers are equally capable individuals, so they both really just spanked it. It's not a yuk-fest. It's not hardy-har-har. It's not Ash shooting finger guns. This is real shit going down. These guys took it real seriously. Lee Cronin is Irish, and he brings kind of a European feel to this thing." The franchise staple eventually pivots to discuss the special effects glow-up of Evil Dead Rise, adding, "No one will ever be able to make fun of the Evil Dead special effects ever again as long as I'm alive. They used to love to do that; cheese-ball effects, garden hoses spewing stuff. Well, you know what? Eat it, bitches, because this is good stuff you're about to see!"
Evil Dead Rise was upgraded from a streaming release to a theatrical release (a very promising sign) and will hit theaters starting on April 21, 2023. Will you be watching?