First Look at the Death of Superman Animated Movie Trailer
The next DC Animate Film adapts one of the bestselling comic book stories of all time, the Death of Superman. The new film is part of the universe that was created in 2014 in Justice League: War and has continued through the last four years.
The synopsis reads: "The Man of Steel meets his ultimate match when Doomsday comes to Earth – hell bent on destroying everything and everyone in his path, including the Justice League – in the all-new, action-packed The Death of Superman, part of the popular series of DC Universe Movies."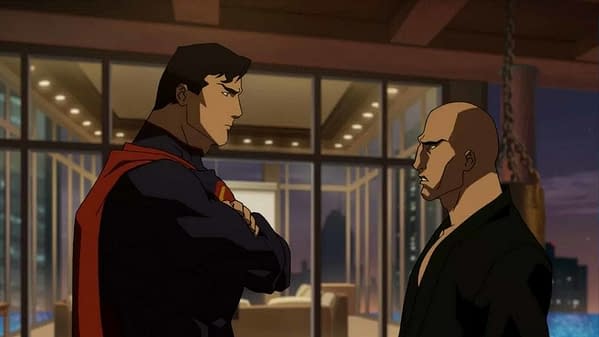 Continuing the casting started with the New 52 take on the animated Justice League universe, Superman is played by Jerry O'Connell (Crossing Jordan), Rebecca Romijn (The Librarians) is Lois Lane and Rainn Wilson (The Office) is Lex Luthor. Also featured are Jason O'Mara (The Man in High Castle) as Batman, Rosario Dawson (Marvel's Daredevil) as Wonder Woman, Shemar Moore (Criminal Minds) as Cyborg, Nathan Fillion (Castle) as Green Lantern and Christopher Gorham (Covert Affairs) as The Flash.
It is interesting to note that this is the second time that DC has adapted the Death of Superman, with an abridged version of the story being told in the 2007 animated feature Superman / Doomsday which featured Adam Baldwin as the voice of Superman, Anne Heche as Lois Lane and James Marsters as Lex Luthor. No other members of the Justice League appeared in that version.
Death of Superman will be released digitally on July 24th and on Blu-ray/DVD on August 7th.