Flash Season 4, Episode 20 Recap: Therefore She Is
This article contains spoilers for the Flash season four episode – Therefore She Is.
.
.
.
.
.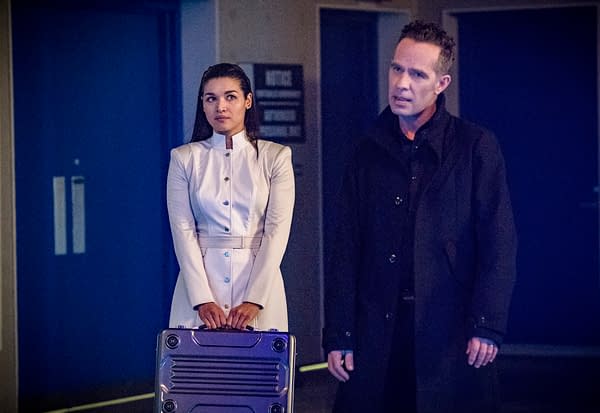 We start this episode with a flashback to when Marlize (Kim Englebrecht) first met Clifford DeVoe (Neil Sandilands) during a panel in college where the two debated the role of technology as a tool of enlightenment for humanity. The episode shows us multiple flashbacks of their relationship from Marlize's point-of-view, establishing their feelings for one another but also her apprehension for his desires to dumb down the world and then what made her finally move over to his side. DeVoe believes that technology has driving humanity apart, brought out the worst in man and that ties into his master plan which we find out near the end. Outside the flashbacks DeVoe has found all the components he needs for his plan and they start collecting them which starts with series of solar power panels that he shrinks down and takes away easily, but makes a security guard shoot himself for trying to stop them.
Meanwhile, Cisco (Carlos Ramon) appears to be ducking the offer Breacher (Danny Trejo) has made for him to take over as a breacher, including message cubes from Gypsy (Jessica Comacho) just checking in on him. He happily goes to the Speed Lab where he and Harry (Tom Cavanagh) try to help Caitlin (Danielle Panabaker) try to kickstart her Killer Frost powers. Barry (Grant Gustin) and Iris (Candice Patton) are there as well and notice Harry forgetting things like there being no dark matter in Caitlin anymore. When called on it, he admits to what he did and how he is losing his intelligence. The team is called to investigate DeVoe's break-in and get a hold of the gun. Cisco is hesitant to try to vibe it, as DeVoe always has traps, and would need to double his power to do it… so Barry suggest calling in Gypsy. When she arrives, you can tell the tension that is between the two, but they try to vibe the gun and get a location. When they get there to keep DeVoe from getting what is in crate 16, the find he is already there and getting what was in crate 18 instead. DeVoe uses a portal to send Barry to the North Pole and then easily takes out Vibe and Gypsy. He leaves and they two lovers argue over whose not clear headed and the breacher job comes up just as the Flash returns.
Joe (Jesse L. Martin) enlists the aid of Harry to distract Cecile (Danielle Nicolet) for a bit, but in doing so her temporary pyschic powers allows her to read Harry's mind before the thoughts he has vanish, allowing them to work together on what DeVoe is planning. But Barry has also figured out that what he is making is five items, not one and that he would need a series of supercomputers to run them, which Mercury Labs had just put into action. Cisco and Gypsy have a talk and neither of them want him to take the job, but Gypsy likes what they currently have while Cisco wants more and they seem to be at an impasse. The team then heads to confront DeVoe, which works at first with Vibe grabbing Marlize while Flash and Gypsy work on DeVoe, but when Marlize takes out Vibe, Gypsy changes her focus and DeVoe counter-attacks. Even Caitlin with a freeze gun just slows him down for a moment. He pins Barry with gravity, then holds everyone in place as he starts to choke Gypsy to death. Marlize turns, refusing to watch him kill, but he forces her to turn back around. She finally talks him into not killing Gypsy and they leave with everything they need for his plan.
Vibe rushes to check on Gypsy, and she's ok. He goes with her to Earth-19 and we get a brief glimpse of the Accelerated Man (Sean Poague). The two say goodbye, telling us that their relationship is over. Seemed kind of weird he would go through just to say goodbye, but then we wouldn't have gotten to see the Accelerated Man… Back on Earth-1, Iris tells Caitlin she could've gotten killed, but Caitlin doesn't seem to care as she wanted to get her heart rate up enough to trigger Killer Frost. Harry and Cecile come into the main section to explain that the know what DeVoe is planning. That Harry's accident with the thinking cap was actually what DeVoe is going for. He wants to flood everyone with enough dark matter to cause the same type of condition to their brains and make them have to relearn everything. DeVoe's enlightenment is basically a mental reboot for all of humanity. Back in the pocket dimension, Marlize is sitting in the floating chair to help heal her arm faster, while DeVoe orders her to begin putting together his satellites. She says no and has put up the force field between them. He has gone too far and refuses to help, reminding him of something he said in the flashbacks that he is nothing without her. She then uses the chair to escape.
The episode ends with Cecile's baby shower with everyone there except Harry. A knock on the door reveals the mysterious girl (Jessica Parker Kennedy) that we've been seeing all season at the wedding and at Jitters now delivering a diaper bag. She tells Cecile and Joe that it was from somebody who wants them to know how important they are and how time is precious. But when Iris moves in to see the gift, the girl leaves. Iris steps out in to the hall and finds nothing. She goes in and then we see that the mysterious girl had tucked around the corner, looks unnerved a bit and then takes off at superspeed leaving behind multiple colors of lightning. Does this swing the idea that she's Barry and Iris' daughter to her being Joe and Cecile's daughter? She told Cecile that it looked like she'd give birth in 21 days (night of the season finale). And her comment about time being precious… does that indicate something is going to happen to either Joe or Cecile? That seems like a pretty heavy ending for a season that was supposed to be lighter.
I'm at the point of the season that frustrates me with the series and with a lot of the Arrowverse. Because of the length of the season there gets to a point where it just feels like the heroes do nothing but fail constantly. They have no success, not making the big bad rethink their plans. This whole season has been Team Flash being 100 steps behind DeVoe and I'm so ready for the happy ending. Since the Thinker took over Brainstorm it feels like the Flash has done nothing but fail and watch everyone around him die. Definitely time for the good guys to get a win. Maybe Marlize will switch sides and make that happen.
Next week the team calls on Amunet Black (Katee Sackhoff) for help. Anyone figured out where that accent she has is from yet?
https://youtu.be/udkWvC3ELMw