Lost George A. Romero Film The Amusement Park Being Shopped
George A. Romero is horror royalty, and usually that means that all of the filmmakers work is readily available to watch. Not so with the Night of the Living Dead director's film The Amusement Park. Lost over time, the film has been found and restored in 4K by IndieCollect in New York. The whole thing is produced by Suzanne Romero. It sounds like while not a straightforward horror film, Romero made an intense, impactful film about "ageism and elder abuse". Yellow Veil Pictures is handling the sale of the film. Thanks to Bloody Disgusting for the initial reporting on the film being found.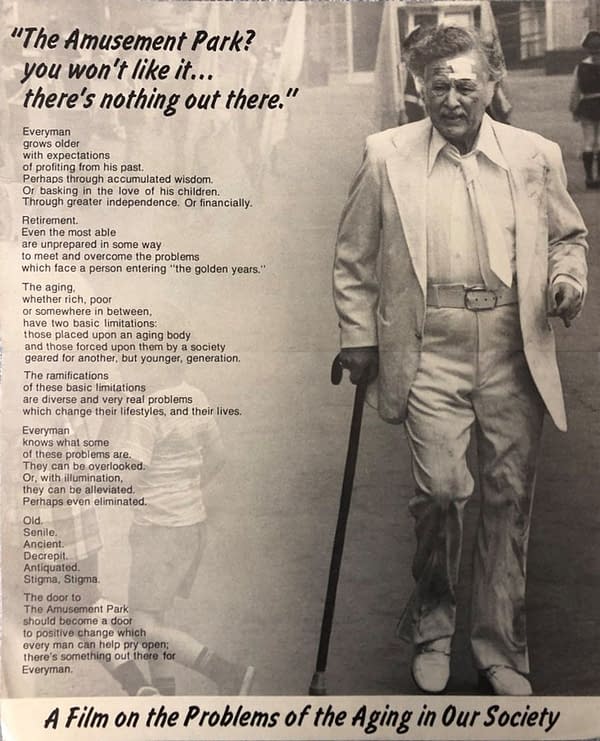 "The film was originally commissioned by the Lutheran Society to raise awareness about ageism and elder abuse. Romero, however, conceived of what was perhaps his wildest, most imaginative movie, an allegory about the nightmarish realities of growing older. The Amusement Park stars Martin's Lincoln Maazel as an elderly man who finds himself disoriented and increasingly isolated as the pains, tragedies, and humiliations of aging in America are manifested through roller coasters and chaotic crowds. Though not in the horror genre it is George's most terrifying film," said Suzanne Romero. "It has Romero's unique footprint all over it!"
How cool is it that stuff like this can still be out there? This is the kind of thing I love about the film industry. That a filmmaker the stature of Romero could still have not only finished work, but important, effecting work still out there and waiting for people to see it warms my little Monster Kid heart. While not necessarily horror, this is still a film to get excited about. I hope that this gets distribution of some kind, and soon. Hopefully theatrical, but sadly that is not a guarantee anymore.