Glass Onion: Jessica Henwick Accidentally Dropped A Glass Sculpture
If you've seen Glass Onion then you know that glass sculpture's play a major role in one of the final scene at the end of the film. In Miles home, he had an entire room filled with glass sculptures and by the end of the film, it becomes obvious that Miles isn't going to be stopped by any conventional methods since the only evidence was burned and no one else was willing to stand up to him. However, that leads to Helen [Janelle Monáe] deciding if she cdouldn't get justice, then she was going to get even. She starts breaking all of the sculptures in the room and, eventually, all of the other people in the room join her in just destroying all of Miles stuff. All of these shots are things that can really only be done once because it's just a little messy and it turns out that one of the actors kind of biffed it when it was her turn. Director Rian Johnson explained to Entertainment Weekly that when it was Jessica Henwick's turn to break something, she messed up, breaks it, and ends up looking directly at the camera with a shocked look on her face. An actor isn't supposed look directly into the camera, it breaks the fourth wall, but that was the shot that got into the movie.
"One of my favorite moments was Jess had a massive one that she got to smash, and she was so excited," Johnson explained. "It's a massive wheel of glass. We start rolling the camera, and I'm saying to her, 'Okay, we want to get this exactly right. We only have one of these. And so what I'm going to do is I'm going to say one, two, three.' She drops it and then looks right into the camera and does this [makes a shocked face]. We had started the camera just to practice the thing. She broke it and then looked right in the camera. That's the take that's in the movie."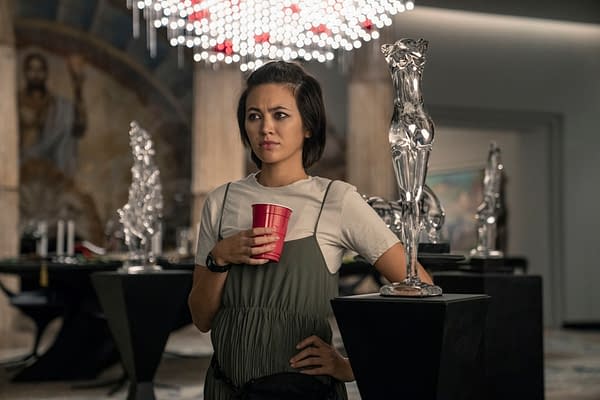 Henwick went on to say that she "broke into a cold sweat. I still have nightmares about that moment" because they only had one of the sculpture that she was going to break. If you think all of that broken glass looks dangerous, it turns out that the pieces were custom out of Prague and made of sugar glass which breaks easily and isn't sharp when it does. So no one was getting hurt from breaking all of those things. For Monáe, that scene in Glass Onion was a lot of fun to shoot and pulled inspiration from some infamous DC comic book villains like the Joker or the Riddler.
"I had so much fun that day," she says. "I pulled from all of my favorite characters like Riddler and the Joker. I only had two takes to do all of that because once you break that glass, it takes a lot to clean up. I had to really map out everything in my head and make sure that I was getting a different variety of smashing. There's the big, big moment. How do you lead up to that? How do you keep the audience engaged as you're breaking all these things?"
The scene is fundamentally important to the film because it is the moment in Glass Onion when Helen takes back her power from Miles. It also kicks off the events involving the Mona Lida and we see the only way that the 1% can really be held accountable, through infamy and shunning of other people in the 1%, because the justice system was going to fail Andi. Blanc knew that and while there is a hint that the Disruptors might turn on Miles, that might be not be enough for criminal charges for what he did to Andi. However, Helen helped get justice for her sister in a different way and to to break some stuff along the way.
Glass Onion: A Knives Out Mystery: Summary, Cast, Release Date
Benoit Blanc returns to peel back the layers in a new Rian Johnson whodunit. This fresh adventure finds the intrepid detective at a lavish private estate on a Greek island, but how and why he comes to be there is only the first of many puzzles. Blanc soon meets a distinctly disparate group of friends gathering at the invitation of billionaire Miles Bron for their yearly reunion. Among those on the guest list are Miles' former business partner Andi Brand, current Connecticut governor Claire Debella, cutting-edge scientist Lionel Toussaint, fashion designer, and former model Birdie Jay and her conscientious assistant Peg, and influencer Duke Cody and his sidekick girlfriend Whiskey. As in all the best murder mysteries, each character harbors their own secrets, lies, and motivations. When someone turns up dead, everyone is a suspect. Returning to the franchise he began, Academy Award-nominated filmmaker Rian Johnson writes and directs Glass Onion: A Knives Out Mystery and assembles another all-star cast that includes a returning Daniel Craig alongside Edward Norton, Janelle Monáe, Kathryn Hahn, Leslie Odom Jr., Jessica Henwick, Madelyn Cline with Kate Hudson and Dave Bautista. It played in theaters from November 23rd to 29th and streamed to Netflix on December 23rd.