Tonight's episode of Gotham is called A Dark Knight: They Who Hide Behind Masks and has Jim Gordon (Ben McKenzie) heading to Miami in hopes of convincing Carmine Falcone (John Dorman) to come back to the city and help him get rid of Penguin (Robin Lord Taylor). But it's Falcone's daughter Sofia (Crystal Reed) who follows Jim back to Gotham.
But that's not all that's going on in the city. Bruce (David Mazouz) has his new suit to try out and Selina (Camren Bicondova) is out for a big score. Plus the Scarecrow (Charlie Tahan) is still loose… oh, and Oswald Cobblepot is having an auction of black market goods. In the two clips below we see Victor Zsasz (Anthony Carrigan) telling Penguin about how someone tried to steal the good, but his men stopped them. Penguin wants to see the stuff himself. And in a second clip we see Barbara Kean (Erin Richards) trying to negotiate buying a specific dagger before the auction starts, but Penguin wants to know who her mysterious benefactor is before he'll make a deal.
I'm still thinking that Ra's al Ghul (Alexander Siddig) is her backer and the below image might back that up… but what is up with the dagger?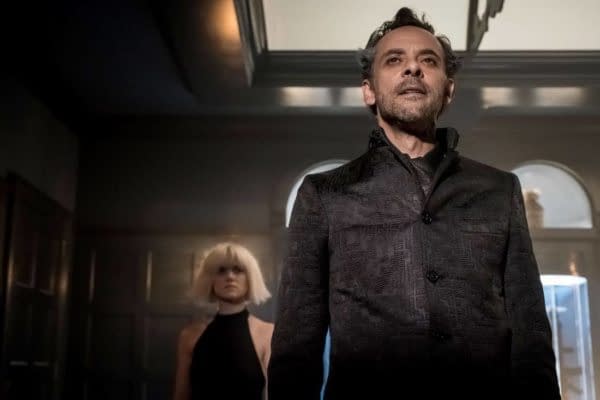 Gotham airs tonight at 8 PM on Fox.
Enjoyed this article? Share it!