At some point in the near[ish] future, we'll be treated to two very different retellings of the classic tale Pinocchio. One, an official 'live-action' Disney remake which may feature Tom Hanks as Geppetto, is just in the pre-production phase, ink drying on contracts and such. But the other, which has more of our attention, will be a stop-motion feature film by Guillermo del Toro for Netflix.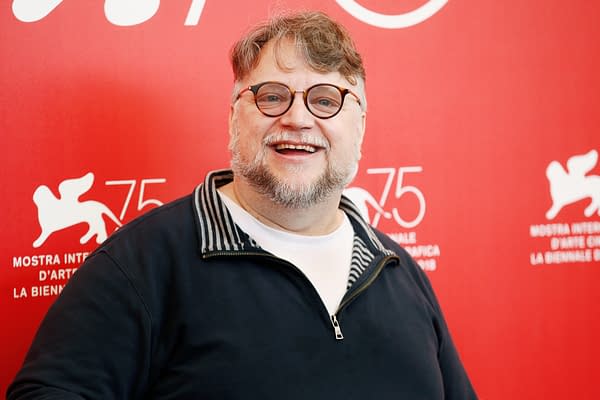 Perhaps you're wondering why a director of del Toro's style would turn his focus to the little wooden boy tale, but he explained a bit about his kinship to the character in a recent interview with our friends over at Collider. It's kind of heartbreaking.
Collider: Why do you want to tell this story?

del Toro: As a kid I felt a kinship with the figure of Pinocchio, not in the happy way or a good boy way. I was very interested in whether he can be himself and be loved. Does he have to turn into a real boy to be loved? Why can he not be loved exactly the way he is? Why can we not be the imperfect children of loving parents? Those are the things I connect with.

Collider: So Pinocchio is a kind of hero for you?

del Toro: The beauty of Pinocchio for me is that he's not a perfect creature. He's a very difficult kid. But he's a kid that learns the boundary between what he wants and others. He's very much like Frankenstein: he's a creature that's created through unnatural means by a father that he distances himself from and has to learn the ways of the world by failing and ache and pain and loneliness. So it's very different from the way people usually perceive Pinocchio. I see him and I think Pinocchio is an oddity, a strange creature and I love him because of that.
Collider also asked del Toro about the ongoing Netflix debate; big-time directors taking their feature films to the streaming service rather than going directly for a theatrical release.
Collider: Given that your upcoming feature Pinocchio is being financed through Netflix, as was your friend Alfonso Cuarón's Roma, there has been a lot of debate about Oscar-winning auteurs having their movies on the streaming site. What is your stance on this debate?

del Toro: I think the landscape is changing and in the next five years it's going to change tremendously. All the studios are preparing their own streaming platforms, so it's not a matter of a single entity streaming at all. I've been trying to make Pinocchio for ten years and I've gone through every studio in Hollywood and they all said no. So whoever says yes I make it I with that person and I think it's the same with the Coen Brothers with The Ballad of Buster Scruggs and it's true for Alfonso in the case of Roma.

I've loved watching movies my whole life. It's interesting to note how when silent cinema became sound cinema everybody said it was the end of the movies and when television appeared they said it was the end of movies. When Blockbuster Video came into homes it was the end of movies. But they don't end; they change. There is a duty for us to keep telling stories and most important is the ambition of the stories we want to tell and the freedom that we have to tell them.

Collider: Are you afraid that Pinocchio won't go to cinemas?

del Toro: I'm more afraid of not making it.
We are definitely interested in seeing del Toro's take of the story. We'll let you know when we hear anything new about production updates and likely release dates.
Enjoyed this article? Share it!