Hellboy opens in theaters this weekend, and reviews have not been kind. If you are planning on seeing the film, if you have a 4DX theater around you, you can have a "gory and intense" experience! The screenings will mimic blood splatter hitting you, along with fog and smoke and all sorts of other completely unnecessary things for watching a film.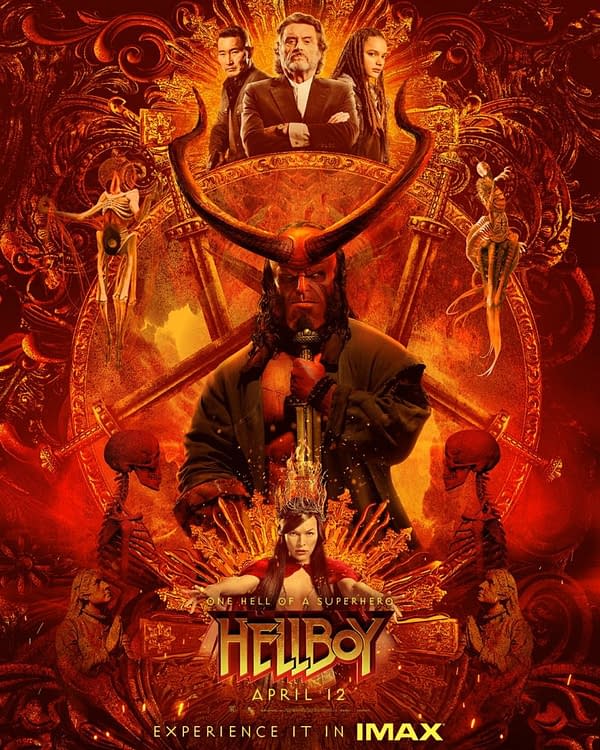 I personally have not experienced 4DX, but I cannot imagine why anyone would want to. People who have done it- what does it add to the experience? I know it costs more per ticket, is it worth it at all? I personally go to a theater to watch a movie, I don't need any bells and whistles. there re already enough distractions going on with phones and such. If you want to experience the 4DX Hellboy screenings however, here is the list of theaters participating:
Regal LA Live
Regal Union Square NYC
Regal E-Walk – NYC
Regal Meridian – Seattle
Regal Avenues 20 – Jacksonville
Regal Pointe Orlando
Regal Warrington Crossings – Warrington, PA
Regal Naples 4DX – Naples, FL
Regal Gallery Place – Washington DC
Edwards Houston Marq'e – Houston, TX
Regal Stonecrest – Charlotte, NC
Regal Warren Moore – Moore, OK
Cinepolis Vista – Vista, CA
Cinepolis Pico Rivera – Pico Rivera, CA
CGV Buena Park – Buena Park, CA
Marcus Gurnee Theaters – Gurnee, IL
Enjoyed this article? Share it!