Surprise! Hulk Hogan is Set for WWE Return, Says TMZ
Hulk Hogan's return to WWE is "almost a done deal," according to gossip website TMZ. Hogan was fired from WWE in 2015 after a racist rant secretly recorded as part of a sex tape featuring Hogan and the wife of Florida radio shock jock Bubba the Love Sponge, which was leaked during a legal battle with Gawker funded by Paypal billionaire Peter Thiel — but the company has been seemingly champing at the bit to arrange his return.
WWE dipped its toes into the waters of Hulkamania when Hogan appeared at the premiere of HBO's Andre the Giant documentary, but the company was careful to issue very particular statements saying that Hogan was not currently under contract to the company, and that any future collaboration between Hogan and WWE would happen in the capacity of Hogan helping others learn from their mistakes, a phrase which is hard to take seriously because of the unique nature of his situation. More likely, what the company means is that they want to make sure WWE doesn't receive enough bad press from Hogan's return to outweigh the cash they can make by trotting the aging Hulkster out for nostalgia pops.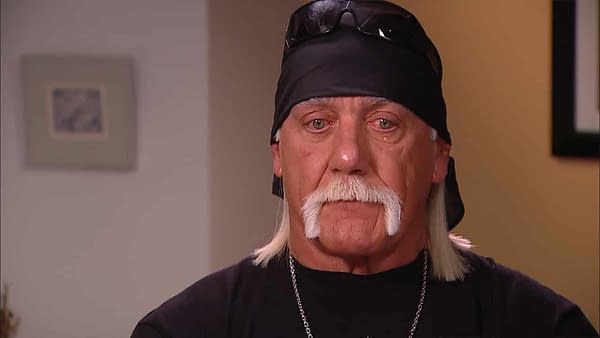 According to TMZ, trotting out Hogan for nostalgia pops has become even more lucrative, as Hogan was reportedly one of the wrestlers Saudi royals wanted to appear at the Greatest Royal Rumble event, part of an ongoing 10 year deal between WWE and the country that's making WWE buttloads of cash. So much cash, in fact, that WWE was perfectly willing to endure the bad publicity of keeping all of their women wrestlers at home (since women's rights in the country are amongst the worst in the world), keeping Sami Zayn off the event apparently due to his heritage and charity work in Syria, and having WWE officials and on-air talent praise the Saudi regime and Prince Mohammad bin Salman as progressive every chance they get.
TMZ's report says that the deal to bring Hogan back hinges on WWE being able to paint Hogan as a changed man who's learned from his mistakes, which explains Hogan's speech at the Boys and Girls Club Hall of Fame induction this week, where he veered from his usual message of "say your prayers and eat your vitamins" to give a half-hearted and vague apology, promising to help teach kids not to spew the n-word while being filmed in a cuckold porno with a radio DJ lest it end up released to the public as a casualty of a legal vendetta by a conservative billionaire. WWE was pleased with these comments, it seems, even if Hogan seems transparently not really sorry whenever he talks about the incident.
How soon can we expect the Hulkster back? WWE is reportedly headed to Saudi Arabia again in November, so it seems like a pretty good bet it will be sometime before then. Maybe at SummerSlam?