Incredibles 2 is coming out this summer, and the sequel to the best Fantastic Four movie Pixar movie is high on everyone's list. Pixar and Disney have been dropping little promos and posters here and there, so let's do a mini round-up post.
First we have a poster. It's pretty cute, and tan lines for the masks are an adorable little addition.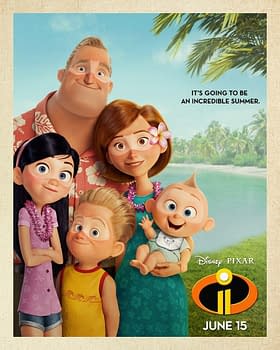 Next we have a promo with some more footage of Mr. Incredible having to do the Dad thing — and it doesn't work out entirely in his favor.
This summer, the wait is over 💥👊 #Incredibles2 pic.twitter.com/imMOuEyoUo

— Disney/Pixar's Incredibles 2 (@TheIncredibles) March 29, 2018
Finally have an amazing little promo spotlighting the amazing Edna Mode. The fact that Disney got a bunch of actual designers and models to do this promo like Edna is a real person is genius. This is probably one of the best pieces of marketing we've seen from Pixar and Disney in a long time.
Icon. Artist. Legend. #EdnaMode is back, dahling. #Incredibles2 pic.twitter.com/Qv410KIQhd

— Disney/Pixar's Incredibles 2 (@TheIncredibles) April 5, 2018
Summary: Bob Parr (Mr. Incredible) is left to care for Jack-Jack while Helen (Elastigirl) is out saving the world.
Incredibles 2, directed by Brad Bird, stars Craig T. Nelson, Holly Hunter, Sarah Vowell, Huck Milner, Jonathan Banks, and Samuel L. Jackson. It will be released on June 15th.
Enjoyed this article? Share it!