This article contains spoilers for the Supergirl episode – City of Lost Children
.
.
.
.
.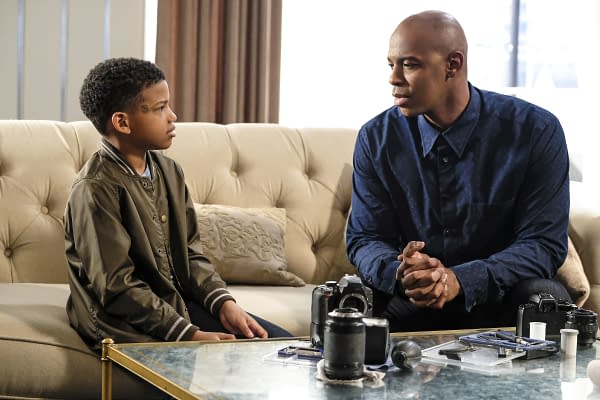 Tonight's episode focused a lot on James Olsen / Guardian and just what his putting on the armor has come to mean. He jumps in to save a woman who was being attacked. And though he took out the attackers, she was scared of Guardian. This isn't a new theme, it was explored over fifty years ago with Iron Man, explaining why he went from the gray armor to gold and it popped up again in the Ben Affleck Daredevil movie after he tries to convince a kid that he's not the bad guy. I half expected that this story would end with Wynn painting the armor Gold and Blue like it is in the comics. Which still might happen.
I think the connection James makes with Marcus reminds him of why he started to be the Guardian in the first place, but this also seems a bit early in a heroes career to start doubting. I enjoyed the scenes between the two and would really like to see the series utilize the Guardian more than they have been. I am curious why no one can just come out and say "Batman" though. He was referred to as Clark's friend and then Wynn pantomimed the pointed ears.
The Rhea / Lena relationship was built up rather well here, giving Lena a mentor and mother figure she has desperately wanted in her life. The betrayal combined with her ex-boyfriends death could push her down the Lex path towards super villainy. And Rhea is a master manipulator. Telling Mon-El that his father killed himself and that it was because of Mon-El will effect him regardless of him finding out the truth. She is just cold.
My one question coming out of the episode… why didn't Mon-El walk over and destroy the device Rhea was using on J'onn J'onzz? And, again, the writers spend more time coming up with ways to make J'onn insignificant rather then finding ways to make him be a hero. I wish they'd stop doing that. Each of the CW shows ends up building a team around their hero, but in this case the heroes are extemely powerful, so they tone them down and kind of take away what makes them special. Mon-El and J'onn shouldn't constantly be diminished in every battle. Hopefully that will change with what Rhea brought through the portal.
This episode is the set up for the final two episodes. A squadron of Daxamite ships hovering over National City, ready to take over the planet. Makes me wonder if one of those ships contains a certain General Zod that we know is coming to the series. I know he's not a Daxamite, but it's possible that he got out of the Phantom Zone and onto a ship. And this is definitely a big enough event to bring Superman back from Metropolis.
https://youtu.be/S9nQUsvqm2E
Enjoyed this article? Share it!