Aquaman is still king-fish at the box office, and director James Wan took to Twitter to share a bit of hidden aquatic easter egg knowledge. Apparently the production team invented a new form of Atlantean writing, which can be seen all over the place in the Warner Bros. Pictures film.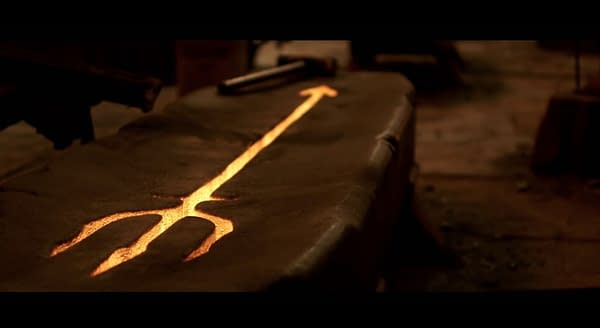 One of the more interesting (and heartwarming) placements of this writing happens to be on King Atlan's golden trident, which is an important part of the film (obviously).
Wan tweeted that the words on the trident translate to "Paul and Mort", referring to Paul Norris and Mort Weisinger, the creators of the DC Comics character Aquaman:
The inscription on Atlan's trident is Atlantean. Yes, we created Atlantean alphabets for the film. And on the trident it says: PAUL & MORT. The creators of #Aquaman pic.twitter.com/8RuMSjCPq8

— James Wan (@creepypuppet) December 28, 2018
Aquaman is currently in theaters.
Enjoyed this article? Share it!