John Boyega Gives Emotional, Impassioned Speech At London BLM Rally
Star Wars actor John Boyega went to the Black Lives Matter protest rally in London today, where he gave an impassioned, moving speech to the people there. "I'm speaking to you from my heart, look, I don't know if I'm going to have a career after this, but f— that." he started. He spoke through a megaphone and led the protest in chants for justice for Belly Mujinga, a black railway worker who died from the Coronavirus after being spat on by someone who carried the disease. He rattled off the names all too familiar right now- George Floyd, Sandra Bland, Trayvon Martin, and so many more black victims of senseless police violence.
"We have the right to live a balanced and healthy life," he said. "We are a physical representation of our unity, and it's very important at this time that we stick together in mind, in spirit, and in body. Today is about innocent people who were halfway through their process. We don't know what George Floyd could have achieved; we don't know what Sandra Bland could have achieved. But today we're going to make sure that won't be an alien thought to our young ones."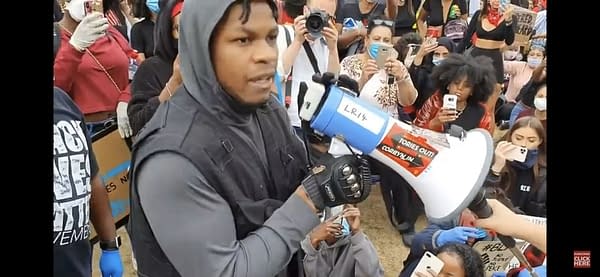 John Boyega continued: "Every black person here remembered when another person reminded you that you were black…I need you to understand how painful this s— is. I need you to understand how painful it is to be reminded every day that your race means nothing."
The actor has been a vocal supporter of the Black Lives Matter movement for years and has recently been getting into it with people on Twitter every day about people telling him to be quiet. Most of all, he stressed the need for organization and peaceful protesting. "They want us to screw up," he says. His message is one of the most vital I have seen since these protests started a few days ago around the world. We should all want to be John Boyega.
How You Can Help
The protests against police brutality now span the entire globe, and there are many ways you can get involved. You can go out and peacefully protest if you want. You can also donate to numerous organizations that are doing a lot of good work for the cause. Here is a list of just some of them:
Over at AfroTech, there is a great list of five apps that can help you find black businesses to help support in these trying times. The rest of us should be supporting, protecting, and lifting up our black friends, family, colleagues, and total strangers whenever we possibly can.